From the White House website we read:
NOW, THEREFORE, I, BARACK OBAMA, President of the United States of America, by virtue of the authority vested in me by the Constitution and the laws of the United States, do hereby proclaim June 2010 as Lesbian, Gay, Bisexual, and Transgender Pride Month.  I call upon all Americans to observe this month by fighting prejudice and discrimination in their own lives and everywhere it exists.

IN WITNESS WHEREOF, I have hereunto set my hand this twenty-eighth day of May, in the year of our Lord two thousand ten, and of the Independence of the United States of America the two hundred and thirty-fourth.
The White House website also states:
. . . An important chapter in our great, unfinished story is the movement for fairness and equality on behalf of the lesbian, gay, bisexual, and transgender (LGBT) community.  This month, as we recognize the immeasurable contributions of LGBT Americans, we renew our commitment to the struggle for equal rights for LGBT Americans and to ending prejudice and injustice wherever it exists.

LGBT Americans have enriched and strengthened the fabric of our national life.  From business leaders and professors to athletes and first responders, LGBT individuals have achieved success and prominence in every discipline.  They are our mothers and fathers, our sons and daughters, and our friends and neighbors.  Across my Administration, openly LGBT employees are serving at every level.  Thanks to those who came before us    the brave men and women who marched, stood up to injustice, and brought change through acts of compassion or defiance    we have made enormous progress and continue to strive for a more perfect union...As we honor the LGBT Americans who have given so much to our Nation, let us remember that if one of us is unable to realize full equality, we all fall short of our founding principles.  Our Nation draws its strength from our diversity, with each of us contributing to the greater whole.  By affirming these rights and values, each American benefits from the further advancement of liberty and justice for all.
All the above and more can be found at this link:   
http://www.whitehouse.gov/the-press-office/presidential-proclamation-lesbian-gay-bisexual-and-transgender-pride-month
The Bible's Answer to President Obama's Declaration
In response to a question concerning marriage
,
we read the following about Jesus:
And He answered and said to them, "Have you not read that He who made them at the beginning 'made them male and female,' "and said, 'For this reason a man shall leave his father and mother and be joined to his wife, and the two shall become one flesh'? "So then, they are no longer two but one flesh." (Matthew 19:4-6)
Also, see these verses:
For since the creation of the world His invisible attributes are clearly seen, being understood by the things that are made, even His eternal power and Godhead, so that they are without excuse, because, although they knew God, they did not glorify Him as God, nor were thankful, but became futile in their thoughts, and their foolish hearts were darkened. Professing to be wise, they became fools, and changed the glory of the incorruptible God into an image made like corruptible man––and birds and four–footed animals and creeping things.  Therefore God also gave them up to uncleanness, in the lusts of their hearts, to dishonor their bodies among themselves, who exchanged the truth of God for the lie, and worshiped and served the creature rather than the Creator, who is blessed forever. Amen. For this reason God gave them up to vile passions. For even their women exchanged the natural use for what is against nature. Likewise also the men, leaving the natural use of the woman, burned in their lust for one another, men with men committing what is shameful, and receiving in themselves the penalty of their error which was due. And even as they did not like to retain God in their knowledge, God gave them over to a debased mind, to do those things which are not fitting (Romans 1:20-28)
Finally, Jesus said In Mark 10:6, "but from the beginning of the creation God made them male and female."
Pray for our nation and its leaders to return to the authority of God's Word lest God continue to turn this nation over as described in Romans 1.
Toe-tapping Time at AiG
Not many people know that I enjoy Bluegrass music—even before I moved to the Bluegrass State, Kentucky. So I was thrilled to hear the Winton family of California when they performed some Bluegrass for our staff this week. Randy Winton and his two sons are extremely talented; in fact, his sons have won some musical contest in California.
Father Randy—guitarist and lead singer—has played for many years, much of it as a music pastor in northern California. He is accompanied by sons Cody (banjo, fiddle, rhythm guitar, bass, dobro, lead, and harmony vocals; in the 2010 California State Competition, Cody took first place for his age group on banjo) and Jesse (mandolin, rhythm and lead guitar, fiddle, lead, and harmony vocals; he just won the 2010 California State Picking Championship Open Division on mandolin).
Here are two photos as they sang to our staff to start off our work day in great spirits.
Here is a photo of the entire Winton family, Randy, Cody, Jesse, Lisa and daughters Anna, Heidi: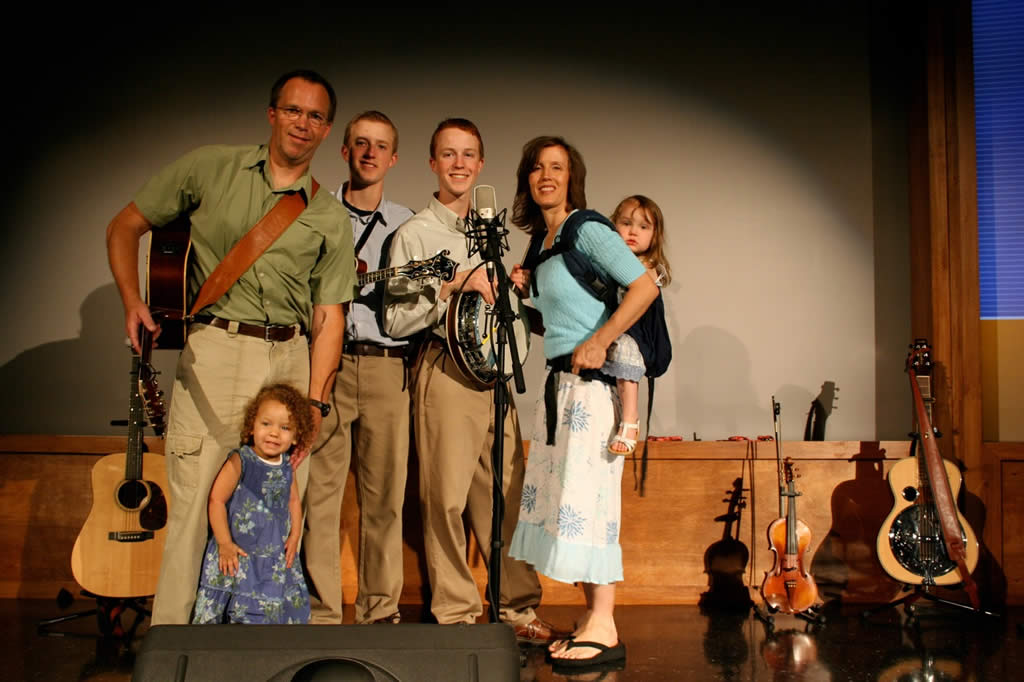 The family of six is on a concert tour of the United States right now. Check their schedule on the link below to see if they might be in your area soon; you can also see how you can purchase their CD.
Here is the website for this talented trio:
http://www.thewintonsbluegrass.com/
You can sample one of their Bluegrass songs. When you go to this web page below, click on the play button that is above the orange bar (that has the word "title" in it):
http://www.thewintonsbluegrass.com/store
Devotion
The tabernacle of the congregation

(Leviticus 6:26) The priest that offers it for sin shall eat it: in the holy place shall it be eaten, in the court of the tabernacle of the congregation.

(Proverbs 21:16) The man that wanders out of the way of understanding shall remain in the congregation of the dead.

Our community of life where we love to be is with our friends in Church around the Lord Jesus Christ; to forsake it is to choose the congregation of the dead.
Thanks for stopping by and thanks for
praying
,
Ken