I want to highlight two creation groups that we have worked with recently in the province of Alberta, Canada.
The first is the CSAA (Creation Science Association of Alberta), led by Dr. Margaret Helder. Based in Edmonton, the CSAA publishes a color newsletter Creation Science Dialogue four times a year, holds special events, etc. See the promo ad below for its October meeting in beautiful Alberta.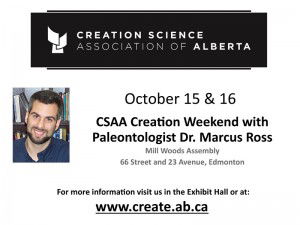 See the CSAA website at http://www.create.ab.ca/
Also in Alberta is Creation Truth Ministries in Red Deer, headed by Vance Nelson. He has a traveling creationist museum with some very nice displays, and he speaks on creation topics. See the CTM website for more information: http://www.creationtruthministries.org/
Here is a slide of the CTM ministry: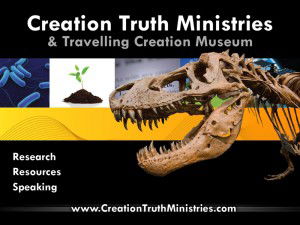 Creation Evangelism
Yesterday at our staff meeting, I gave the staff a presentation on creation evangelism—how to evangelize people in today's secular (hostile-to-Christianity) world. The message is about 35 minutes long, and you can play it here:
http://media.answersingenesis.org/Blog/05192010-ken-ham.mp3
Devotion
He expounded unto them

(Luke 24:27) And beginning at Moses and all the prophets, he expounded unto them in all the scriptures the things concerning himself.

Our goal is to see in all of the Old Testament the Lord Jesus Christ; this is a revelation that comes from the Spirit of God.
Thanks for stopping by and thanks for
praying
,
Ken