For the past two days I have been speaking in Tennessee.  On Sunday morning, I spoke at Red Bank Baptist Church (Chattanooga).  One man came and told me that when he was a non-Christian, someone showed him a number of our DVDs; he said the Lord used these to change his life and become an on-fire Christian.  I do hear many such testimonies from people out in the field when I am out speaking.  How we praise the Lord for the lives He changes through the AiG ministry.
I heard many other testimonies in Red Bank as well: like the lady who told me she was greatly influenced by our resources as a young girl, and now she is bringing her children up on AiG material.  That also makes me realize I am ageing!
Here are some photographs from  Red Bank Baptist Church: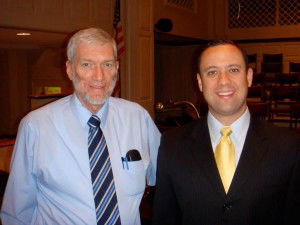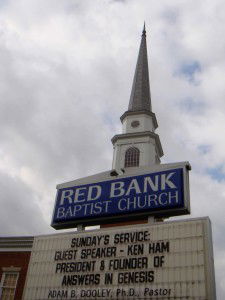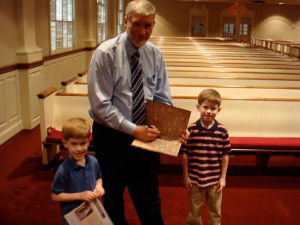 I also spoke at Highland Park Baptist Church Sunday evening for the Baccalaureate service for this year's graduates of Tennessee Temple University.

After the service, I met a young boy who said he wanted to "grow up and be a creationist like Ken Ham," so I had my photograph taken with him: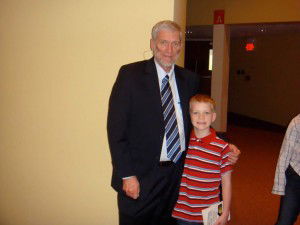 On Monday morning, I gave the commencement address to the  graduates of Tennessee Temple University.  Before I gave the address, the university honored the ministry of AiG by conferring on me an honorary doctorate.  Praise the Lord for a university (one of a very few) that takes a solid stand on a literal Genesis.  The evening before the graduation ceremony, I had dinner with the president and some faculty, including a biology professor, Dr. Andrew Fabich, who is an ardent biblical creationist—he was so thrilled to see me speaking at their Institution.
Devotion
All that hear me this day

(Act 26:29)  And Paul said, I would to God, that not only you, but also all that hear me this day, were both almost, and altogether such as I am, except these bonds.

The heart of a "soul winner" desires that everyone within the sound of his voice would be saved from his sins by the Lord Jesus Christ.
Thanks for stopping by and thanks for
praying
,
Ken