Here is the picture  Kris & Mariola Kolt and me. They are missionaries currently garnering support via World Wide Tent Makers. When they have reached their funding goals they will move to Poland (http://www.worldwidetentmakers.com).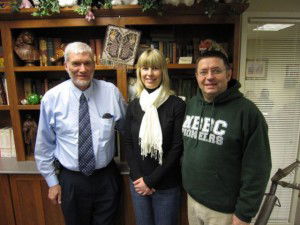 Kris is taking courses at Northland International University in Wisconsin and recently heard me speak there. Afterwards they were so excited that they had to come and see the Creation Museum as soon as possible. Mariola read our book How could a loving God? and it changed her whole perspective on death and suffering.
They also brought with them some delicious authentic Polish sausage that AiG staff member Perry enjoyed very much and left none for me!!
Angels Among Us
Last month, three young ladies decided to bless the Creation Museum staff in a unique way:  baking something for every department to surprise everyone when they came to work the next morning.  Our volunteer coordinator on staff (herself a volunteer), Ruth Carter, told me the rest:
The trio headed off to a Kroger grocery store at 8pm, buoyed by youthful enthusiasm.  An hour later, the blitz was on!  Brownies, cheesecake, pumpkin delight, apple pie, lemon squares, and blackberry cobbler … hmmm … but it's 12 midnight … could they … should they start baking the cookies?  Throwing caution and common sense aside, they started in on six batches of chocolate chip and peanut butter cookies. And by 2:30am they were done.  The kitchen was clean. Time for bed! In the morning, each department was presented with its gift! Thank you Curran sisters and Emily Burch!
Thanks, Ruth.  And thank you for the verse you also shared: "
Let your good deeds shine out for all to see, so that everyone will praise your heavenly Father
" (Matthew 5:16).
Devotion
The Spirit of Christ which was in them

(Matthew 10:20)  For it is not you that speak, but the Spirit of your Father which speaks in you. (1Pe 1:11)  Searching what, or what manner of time the Spirit of Christ which was in them did signify, when it testified beforehand the sufferings of Christ, and the glory that should follow.

We blame the devil for deceptions of who the Holy Spirit is; the Holy Spirit is called the Spirit of the Lord Jesus Christ, the Spirit of our Father who speaks in us.
Thanks for stopping by and thanks for
praying
Ken