This week we said good-bye to one of our dear staff, Donna. She is retiring and moving to Arizona to be near family and friends; before doing so, she will be visiting parts of America and then volunteer for a few weeks at the fine ministry of Voice of the Martyrs in Oklahoma. See www.vom.org
Donna, who worked in our correspondence department (using her science background, which she also used as a naturalist with the U.S. government on Johnston Island in the middle of the Pacific Ocean), said good-bye to us this week. Her supervisor, Bodie (left in the photo) said a few words about Donna's ministry with us over the years, as did I.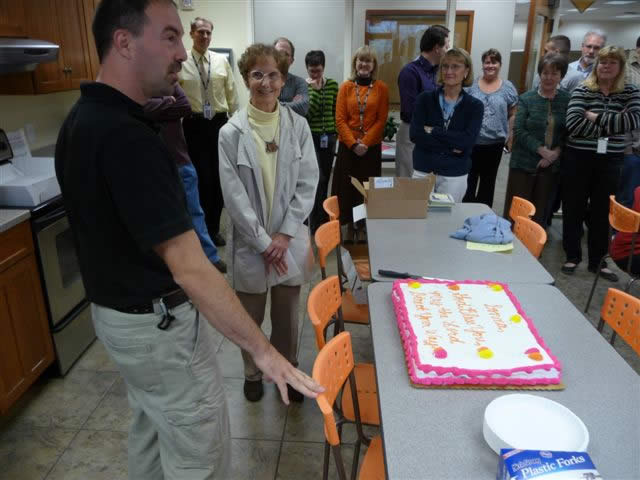 Japanese DVDs
In August I traveled to Japan to have six of my main presentations translated into Japanese. Yesterday I was sent a copy of the graphic to be used on the DVD covers, and I thought you might like to see this as a reminder to pray for the Japanese DVD project.
Yesterday as well, we had a special Japanese visitor to the Creation Museum—who attended the filming sessions in Japan for these new DVDs.  More about Pastor Kato later in a blog item, including a special prayer request that he has.
South Carolina AiG Conference
Today I am in Greenville, South Carolina, to speak at an AiG conference (plus a special businessmen's luncheon) at Hampton Park Baptist Church.  You can obtain all the details from the
AiG website
.
Thanks for stopping by and thanks for praying
Ken