It is thrilling to see how people are using Answers in Genesis resources to equip and challenge. I received an email advertising our very popular DVD apologetics series by Brian Edwards on How Do We Know the Bible is True? to be shown in a home in Rancho Santa Fe, California. How about considering doing something like this for your area?
Here is a sample of that home study group's promotional materials: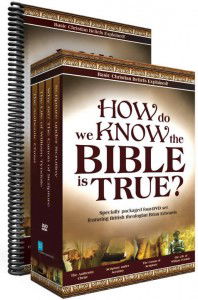 "How Do We Know the Bible is True?"

4 Part DVD Series Mondays

October 5th–October 26th

How Do We Know the Bible Is True? is an essential primer of Christianity and apologetics that every believer should know. This is another fine production from Answers in Genesis and comes with a study materials. Your Host is Brian Edwards, popular theologian and international speaker.

Part 1 October 5th, 7:30–9:00pm: "The Authentic Christ" 49 min DVD By studying the fulfillment of Old Testament prophecies and how these prophecies point to the coming of Christ—authenticating the authority and credibility of His life on earth—Christians will understand as never before the amazing significance of Jesus of Calvary and all that His death means for us. Part 2 October 12th, 7:30–9:00pm: "The Life of William Tyndale" 48 min DVD At a time when reading the Bible in English was punishable by death, William Tyndale was used mightily of God to translate and print the Scriptures into English. Giving ordinary people the opportunity to read God's Word, Tyndale's work has influenced English translations for over 400 years! Part 3 October 19th, 7:30–9:00pm: "Scripture Under Scrutiny" 35 min DVD Translated into more than 420 languages, the Bible is still the world's best-selling book. But where does our Bible come from and why can we be sure that it is reliable? These and many other questions are answered in this presentation. Part 4 October 26th, 7:30–9:00pm: "Why 66? The Canon of Scripture"54 min DVD It has become all common for critics to dismiss the Bible's credibility. It is time for some plain and simple truth. Join us as we trace the story of the Hebrew Scriptures, widely known as the Old Testament, and the writing and acceptance of the books of the New Testament. Edwards leads viewers to some unexpected and faith-strengthening conclusions. WHEN: Please, come early at 6:45pm for prayer for our state, nation, and world. Otherwise, be there Monday nights at 7:30-9:00pm, October 5th-October 26th.
You can
obtain this DVD series
from the AiG online store.
Liberty Convocation
Today I am in Virginia preparing to speak tomorrow morning at
Liberty University
to the student body at their 10:00 a.m. convocation in the Vine Center. Please pray for this opportunity to reach over 11,000 students and staff with the
creation/gospel message
.
Portland, Oregon, Answers for Darwin Conference
After I speak at Liberty, I will be flying cross country to Portland, Oregon, for an
Answers for Darwin
conference with
Dr. Jason Lisle
at Rolling Hills Community Church, 3550 SW Borland Road, Tualatin (11 miles south of Portland). The conference runs Sunday through Monday evening, and there is no charge. For further details,
go to the AiG online calendar
.
Please send that link to any family and friends who might live within easy driving distance of Portland.
Devotion
The extent

(Psalm 116:10) I believed, therefore have I spoken

The extent we believe the gospel is true is seen by the extent that we tell it to all the lost.
Thanks for stopping by and thanks for
praying
, Ken