Long-time friend of our ministry, Fred Willson (who at one time worked at the Institute for Creation Research), has a unique "creation evangelism" outreach. As you read this account that Fred sent us, perhaps it will spur you to do something similar in your community—and reach it with the powerful creation/gospel message:
Have you considered that the Farmers' Market in your local community is a great place to promote creation? Set up a table like other vendors, put up some creation signs along with creation tracts, booklets, etc., an object or two that show design, and a willingness to talk—you will discover this to be an effective way to present the truth of creation at this grassroots level.

I normally do this each weekend at the Farmers' Market in Fayetteville, Arkansas. This is a witnessing event where you will see "the rubber meet the road." You will be liked, disliked, disdained, etc., but if you continue to do it faithfully, most persons there will respect your willingness to stand for what you believe—even if they don't agree with you.

There is a common ground between you and the non-believer that makes this kind of witnessing effective. In Romans 1:20 we read that everyone "clearly sees" through "the things that are made" that God exists. Therefore by explaining the design of one of God's created objects you will have "taken the lid off"—the truth they have suppressed (Romans 1:18—and bring them face-to-face with their Creator. While many will quickly return to suppressing the truth, for that moment, creation truth has reached into their conscience. By your opening up closed minds with "made things," this observation can be used of God the Holy Spirit to reach them for Christ.

—Fred Willson
California Answers for Darwin Conference Begins Tonight
Tonight I speak at the first of four services—Saturday evening and Sunday morning—(the same message each service) at Horizon Christian Fellowship in Rancho Santa Fe (San Diego area), followed by two sessions totally different: Sunday and Monday evenings in which myself and Dr. David Menton will speak. Find out more details from the AiG website.
T-Rex Balloons for Kids
The Driver family volunteers to help AiG in a multitude of ways. The children from the family have been making balloon figures for kids who come to the Creation Museum (it is very possible that when you bring your kids they will meet the Drivers who will gladly make a balloon figure for them). Here is a photograph of AiG speaker Carl Kerby teaching the Driver kids to make a balloon T-rex!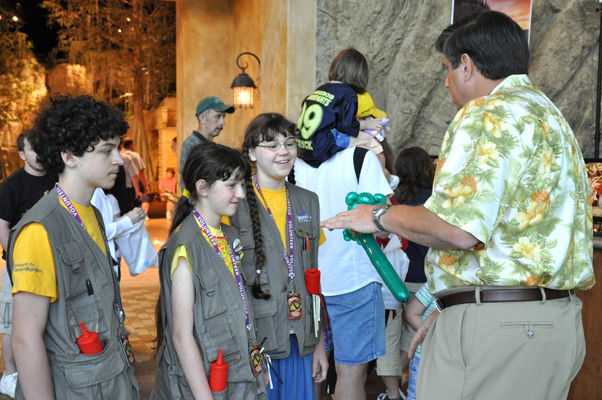 Devotion
Himself

And I will take you to me for a people, and I will be to you a God (Exodus 6:7).

Not to a religion, doctrine or church, but to the Lord Jesus Christ Himself, our life efforts will be empty & non fulfilling till we make Him our single focus of life.
Thanks for stopping by and thanks for praying,
Ken