From time to time I share quotes from Answers magazine subscribers, who write to tell us how much this myth-busting tool means to them. Families love it because it really does affirm the truth of the Bible and the faith of all who read it. I'm amazed at what a high quality publication it is and we're hearing that sentiment from more and more "high profile" Christian leaders and authors. (The NEXT issue has a very special section about the Curse, and I can't wait for you to read it. If you don't currently subscribe, I urge you to do so now!)
Yesterday the photo shown below of the magazine team was taken after they were presented with a number of awards by the Evangelical Press Association.
While the most heartwarming and inspiring encouragement is definitely the testimonies that we hear from the nearly 70,000 families who subscribe to Answers, it's great to see that the biggest and most respected Christian association of publishers, editors, and designers affirm the top-quality work that is being done to help get the creation and biblical authority message out via this periodical. Congratulations to the many AiG staff and the many authors—both inside and outside of AiG—who have helped make this constantly growing publication what it is today! (We now have subscribers in over 120 nations!)
Answers magazine received awards in six out of ten categories, among a field of nearly 300 Christian publications and ministries such as Christianity Today, Focus on the Family, the Navigators, etc. Here are the "Higher Goals" awards received this week:
2nd Place in the "Cover" category (for our Global Warming issue)
3rd Place in the "Publication Design" category (for our Global Warming issue)
2nd Place in the "Two-Page Spread Design" category (the Big Bang article in the Astronomy issue)
3rd Place in the "Evangelistic Article" category (Kirk Cameron's article in the Wonders of Creation issue)
5th Place in the "Original Art" category (the ant colony illustration in the Wonders issue)
4th Place in the "Typography and Lettering" category (the Creator Clearly Seen layout in the Wonders issue)
I'm so thankful to the Lord for the people He has brought together to coordinate the efforts of so many who desire to get the truth of Creation and the Bible out, far and wide!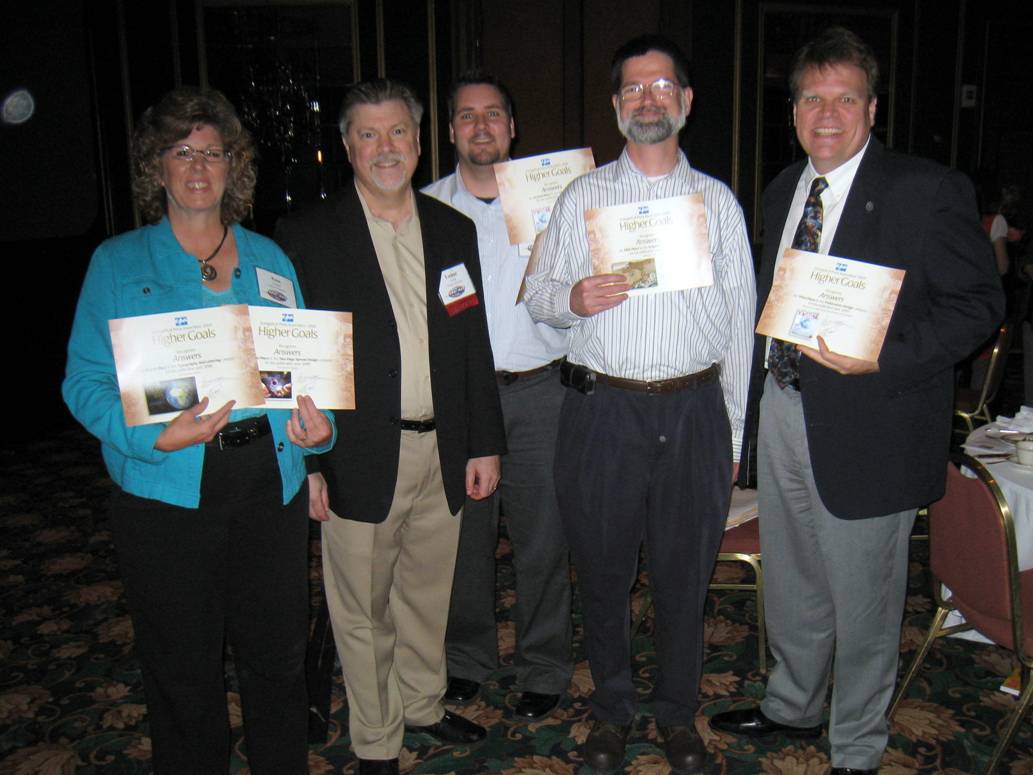 Lamar Keener, president of the Evangelical Press Association (second from left) took a few minutes with our staff at the "Higher Goals" awards ceremony this past Friday. Seen here (left to right) are; Pam Sheppard (National Editor), Lamar Keener (EPA president), Dan Stelzer (lead Magazine Designer), Mike Matthews (Editor-in-Chief), Dale Mason (Publisher).
If you were not a subscriber or have given your copies away to others (God bless you!) you can still order back-issues.
Answers Magazine Gets a Big "Wow"
We often receive feedback like this about our award winning
Answers
magazine:
I found myself reading about the Towel of Babel in your April/June 2008 issue. Yes, it was written a year ago; sometimes I don't get to see one until a trip to the doctor, where I make sure I have something substantial to read. I was pleased to have read such a thought-provoking issue. Questions I had never delved into before like - Why God caused the division of people…The article on when Egypt was formed was also great, and on and on. From secular learning, we learned Egypt was one of the "oldest" civilizations. But to put an origin on it and name a descendant of Noah, named Miziram, was a big "WOW!" God's word truly does have "Answers" if only we will delve into it. Your testimony for God is very obvious.
Thanks for stopping by and thanks for
praying
,
Ken