If you want a very special kiss, then maybe you would like to visit the Petting Zoo at the Creation Museum! On Thursday, Mally and I took our granddaughter Kylie to the Petting Zoo—she decided she wanted to kiss the donkey! Our daughter Renee quickly snapped a photograph of her daughter that I couldn't resist putting on my blog:
We also had a couple of other photographs (Mally, granddaughter Kylie, and me) taken in the museum's beautiful gardens—they are starting to come to life now as winter is (mostly) over. Over 2,200 people enjoyed the gardens and Creation Museum yesterday.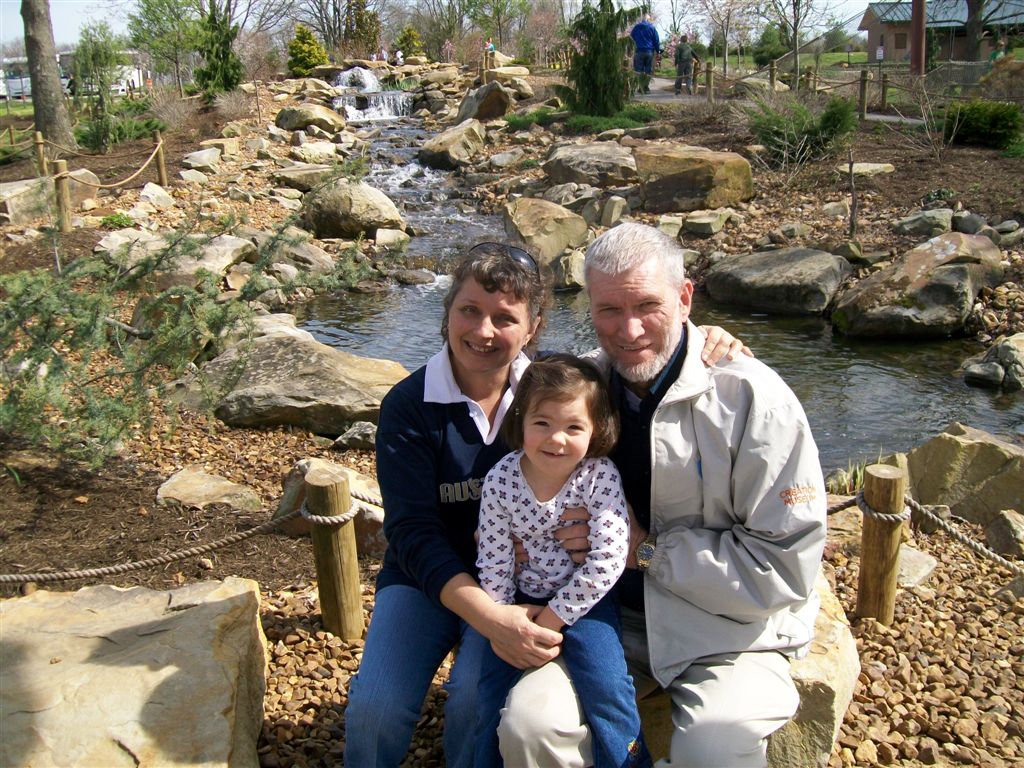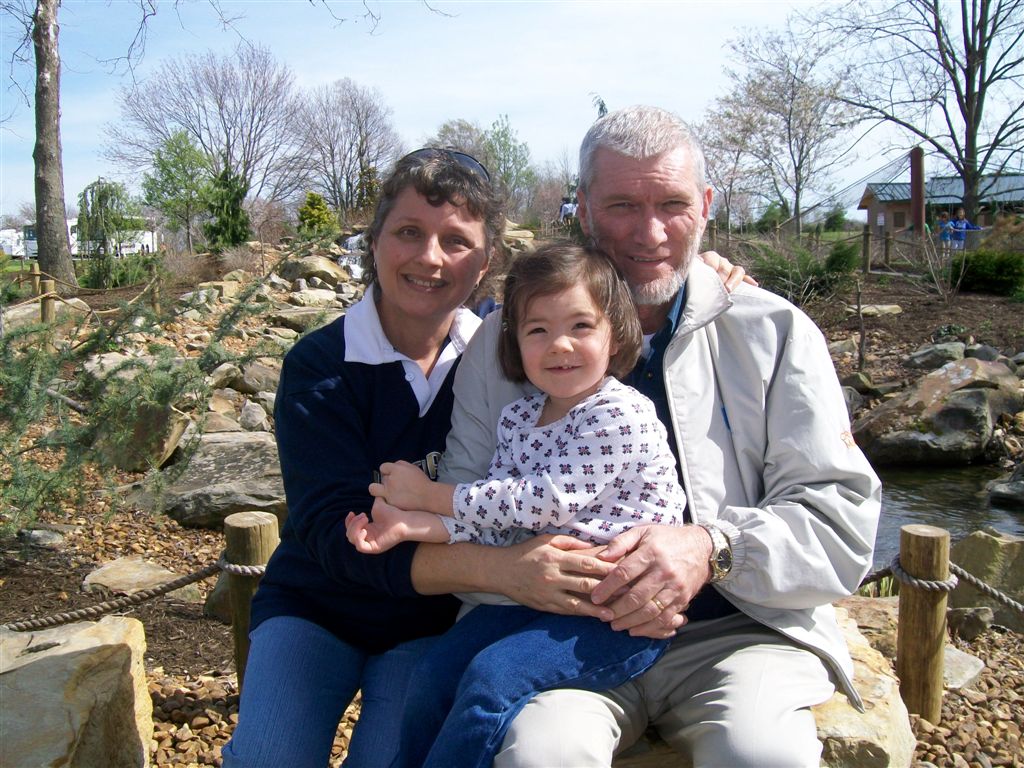 Errors and Contradictions in the Bible?
Jesus was put to death by wicked Pharisees. And wicked people are still attacking him. Bart Ehrman is described by Wikipedia as "… an American New Testament scholar and textual critic of early Christianity. He is the James A. Gray Distinguished Professor and Chair of the Department of Religious Studies at the University of North Carolina at Chapel Hill. He has written about how the original New Testament texts were frequently altered by scribes for a variety of reasons, and argues that these alterations affect the interpretation of the texts."
In this video clip (link below), the "goofy" interviewer/comedian (Stephen Colbert) exposes some of the surely multitudinous absurdities that Bart Ehrman proclaims in his book that seems to be getting attention. In a world where men "loved darkness more than light," it is not surprising that a book that attacks the authenticity of the Scriptures gets such publicity. But even a goofy interviewer can see through the ridiculous arguments of this author. You can watch this video at this link (but be warned—you could be easily offended by the way this is done and the way God's name is made fun of—but it will open your eyes as to the sorts of attacks on God's Word these days):
http://www.cc.com/episodes/7t0be0/the-colbert-report-april-9--2009---bart-ehrman-season-5-ep-05048
Answers in Genesis speaker and researcher Dr. Terry Mortenson sent me this in response to this book and interview by a man who once attended Moody Bible Institute and Wheaton College:
God laughs at the attacks on His Word and character (Psa. 2), but He takes no pleasure in the death of the wicked, but desires that they repent (Ezek. 18:30-32). Jesus still says to His Father, "Father, forgive them, for they know not what they do" as He says to sinners, "repent or you too will likewise perish."
May we all rejoice this weekend again in the wonder of the Cross and Resurrection of Jesus, the Messiah, which the four Gospels collectively give us a beautifully complementary and perfectly accurate and description of, so that by faith we might know the mercy and grace of God in the forgiveness of our sins and might be motivated once again to share that good news with others who are still lost in sin.
Celebrating the Cross and Resurrection, Terry
Thanks for stopping by and thanks for
praying
—and let's pray for Bart Ehrman that his heart will be finally opened to the truth of God's Word.
Ken