As I was flying back from Virginia yesterday, many interesting visitors were touring the Creation Museum. Michael Shermer, perhaps America's leading atheist (or "nontheist" as he might call himself) and who states that he was once an evangelical until he went to what supposedly was a Christian college in California and eventually began to "lose his faith," toured the museum with students from Ohio State University, as well as members of a Cincinnati skeptics group.
Michael, whom I met at a broadcasters convention last year and invited to tour the museum, is best known for being the editor of Skeptic magazine, founder of the Skeptics Society, and as an evolutionist debater (of creationists like Dr. Duane Gish). He interviewed Dr. Georgia Purdom of our staff, which I understand was more of a mini-debate in the way he framed his questions (but it was cordial). Interestingly, though Dr. Purdom has a PhD in molecular genetics, the majority of his questions were theological or philosophical. The 25-minute interview with Dr. Purdom was videotaped by Dr. Shermer's group, and portions may appear on YouTube one day.
At the end of his visit, Michael thanked us for the hospitality and said that the museum was "great" (well, at least in presentation!). One of our staff gave him a DVD of Dr. Menton's talk Fearfully and Wonderfully Made, and Dr. Shermer gave us a copy of his magazine and one of his books.
And Canadians (Actually a Lot of Canadians Visit the Creation Museum) . . .
We also had visitors (Jason, Kirk, and Chris) on Wednesday from three different Canadian provinces.
I'm sorry I missed all our special visitors yesterday, but my travel schedule is quite horrific at times!
"Vacuum Cleaners!"
Those attending the "Answers for Darwin" conference in Lynchburg, Virginia, on Sunday–Tuesday were like "vacuum cleaners" as they cleaned the AiG resources off the tables: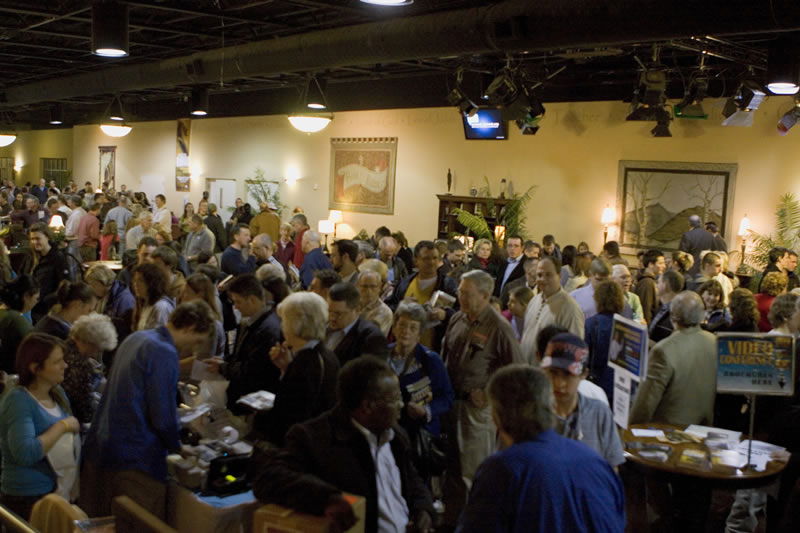 I have also included a photograph of the four speakers: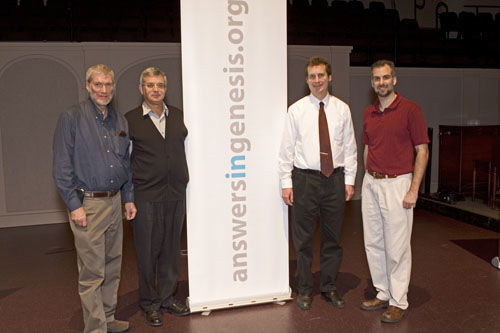 Me and Dr. Andrew Snelling of AiG and Dr David DeWitt and Dr. Marcus Ross (the latter two are both from Liberty University)
Back to Florida
I have spoken in Florida quite a lot over the past few months. This weekend (Friday/Saturday/Sunday) I will be speaking with Dr. David Crandall at an AiG conference in Winter Haven (near Orlando). You can
obtain details
from the AiG website.
Devotion
So soon

(John 9:4) I must work the works of him that sent me, while it is day: the night comes, when no man can work.

The more we now think of how fast we approach our night, the less likely we will say before our death, "So soon, Lord, is my chance to serve you over so soon?"
Thanks for stopping by and thanks for
praying
,
Ken