The well-trafficked website Christian Post has produced a news item on our Answers for Darwin conferences, the first of which begins this coming weekend in Costa Mesa, California (south of Los Angeles)—and they are free events, with no registration needed.
The news item states:
While hundreds of celebrations worldwide will be marking the 200th anniversary of Charles Darwin's birth beginning in February, one creationist ministry will be holding conferences to refute the famed scientist's theory of evolution.
Answers in Genesis, which runs the Creation Museum near Cincinnati, Ky., will host two free national conferences to help Christians defend their faith against a theory that the ministry sees as running counter to Scripture.
The two conferences, dubbed "Answers for Darwin," will take place at two churches—one held on the West Coast and one on the East Coast—to provide training and education for Christians regarding evolution and creation.
The West Coast gathering is scheduled for Feb. 6–7 at Calvary Chapel in Costa Mesa, Calif. The East Coast event is set for Feb. 15–17 at Thomas Rd. Baptist Church in Lynchburg, Va.
You can read the
rest of the article
at on the Christian Post website.
You can obtain all the details about the Answers for Darwin conferences from the AiG website.
This weekend in southern California, I will be joined by Dr. Andrew Snelling and Dr. David Menton for the first Answers for Darwin conference. Both Dr. Snelling (geology) and Dr. Menton (anatomy) are excellent,  dynamic communicators. Don't miss this unique opportunity. Bring your friends.
Icy Landscape
AiG's Stan Vandiver took this shot of the museum grounds last week: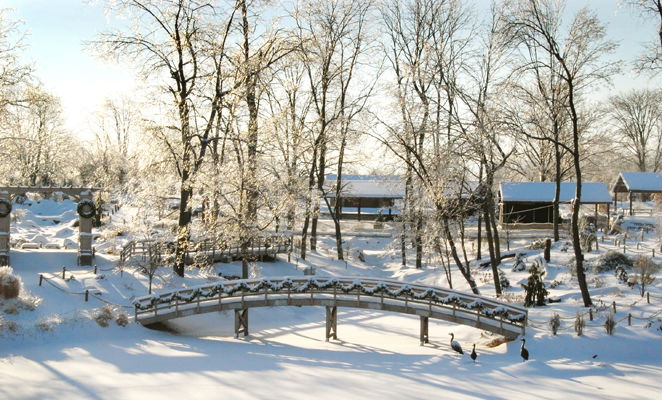 Experience the Modesto Conference
A series of photos taken by AiG staff member Perry Petrushko will give you a feel for the Modesto, California, conference that started Sunday. Because we have been in Modesto a few times over the years, I heard a lot of encouraging feedback from people telling us how God has used AiG to change their lives.  I also had a number of young people from 9 through 16 who told me their heart's desire was to work for AiG one day, and they wanted to study some aspect of science to be a creation scientist. Many other great responses—lives challenged.
Thanks for praying—I speak four times today (which includes a special children's program in the morning and a high school program this afternoon) for the last day of this conference. I hope these photos help you experience what happened yesterday:
Thanks for stopping by and thanks for praying,
Ken