It was such an honor this week to meet Art Rorheim, co-founder of the very well-known and highly respected Awana organization. Art was visiting the Creation Museum and took time to meet with me and share aspects of our respective ministries.
In many ways, Awana is a product of Art Rorheim's passionate heart for Christ, the gospel, and children. Mr. Rorheim has overseen Awana from its humble infancy as an urban Chicago ministry to its expansion around the world. He led Awana as executive director from its inception in 1950 until 1992.
Under Mr. Rorheim, Awana has helped more than 17,000 churches and countless parents raise children and youth to know, love, and serve Christ. Today, Awana assists churches in over 100 countries in ministering to over one million young people in a given week. Mr. Rorheim, 90, and his wife and partner in ministry, Winnie, have been married for 69 years. The Rorheims live in Rockford, Illinois.
I have included a photograph of Art and me taken during his visit.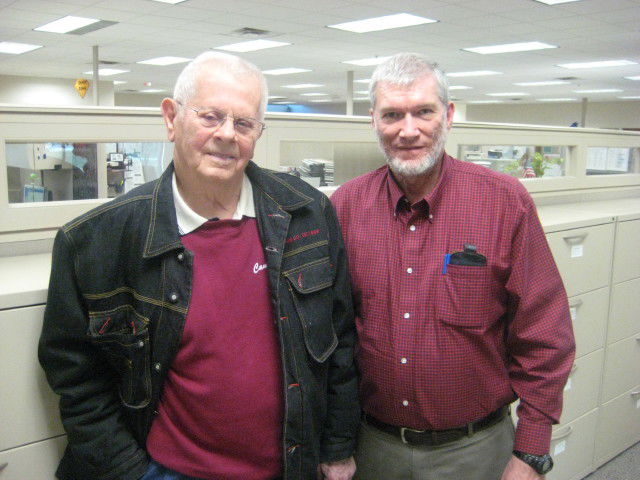 For further information on Awana, visit:
http://www.awana.org/about/default.aspx?id=649
Art loved the Creation Museum by the way!
Special January Museum Promotion—Purchase One Ticket and Receive One Free
For January, we have decided to hold a special promotion to help families enjoy the Creation Museum at a reduced cost. During this month, when a Creation Museum admission ticket is purchased, the person can receive another admission ticket of equal or lesser value
free
. For instance, a family with two adults and two children would only pay for two adult tickets for the whole family to get into the museum.
Further information can be obtained from the Creation Museum website. The promotion runs through the month of January and can't be used with any other promotion.
We are still receiving great feedback from our special Christmas Eve promotion, when the Creation Museum was opened free for the day. Around 3000 people visited. I have included a photograph of some of the crowd who attended that day.

Final Two Evenings for Live Nativity/"Road To Bethlehem"
This evening and Saturday evening are the final nights for the special (and very well attended and received) live nativity and "Road to Bethlehem" programs at the museum. We praise the Lord for the thousands who attended. People have also commented that the light display in the gardens rivals anything else they have seen in this area. For further information go to the
Creation Museum website
.
Devotion
Down to the very end

(2 Chronicles 36:15)  And the LORD God of their fathers sent to them by his messengers, rising up betimes, and sending; because he had compassion on his people, and on his dwelling place.
Even down to the very end of life, the Lord Jesus Christ graciously sends His Gospel messengers to urge the lost to turn to Him and the saved to live for Him.
Thanks for stopping by and thanks for
praying
,
Ken