Recently, a number of articles appeared in the world's secular press about Charles Darwin, the Church of England, and evolution. One such article in the Telegraph newspaper in the U.K. reported that the Anglican Church in England was going to apologize publicly to Charles Darwin. The article states:
The Church of England will concede in a statement that it was over-defensive and over-emotional in dismissing Darwin's ideas. It will call "anti-evolutionary fervour" an "indictment" on the Church. The bold move is certain to dismay sections of the Church that believe in creationism and regard Darwin's views as directly opposed to traditional Christian teaching. The apology, which has been written by the Rev Dr Malcolm Brown, the Church's director of mission and public affairs, says that Christians, in their response to Darwin's theory of natural selection, repeated the mistakes they made in doubting Galileo's astronomy in the 17th century.
The statement will read: Charles Darwin: 200 years from your birth, the Church of England owes you an apology for misunderstanding you and, by getting our first reaction wrong, encouraging others to misunderstand you still. We try to practise the old virtues of 'faith seeking understanding' and hope that makes some amends.

(http://www.telegraph.co.uk/news/newstopics/religion/2910447/Charles-Darwin-to-receive-apology-from-the-Church-of-England-for-rejecting-evolution.html)
A plethora of articles dealing with Darwin/evolution has appeared recently in the secular press across the globe. AiG's librarian Walt Stumper sent me this report:
Charles Darwin and creationism made worldwide news this past week when Professor Michael Reiss, biologist and Director of Education with the British Royal Society, declared that discussion of creation should be allowed in British schools. A few days later, the Public Affairs spokesman for the Church of England issued an apology for its treatment and criticism of Darwin and his evolutionary views. Shortly after the apology was made public, Professor Reiss was forced to resign his position as Director of Education. All these events were followed by the Vatican's Cultural Minister announcing they did not need to apologize, saying Darwin's theories were 'never condemned by the Catholic Church nor was his book ever banned.'
Displayed on an AiG bulletin board (located outside the employee break room) are newspaper articles from some of the many countries covering these stories: Mexico, Malta, India, United Kingdom, Slovakia, Netherlands, Spain, Belgium, South Africa, Northern Cyprus, Italy, Canada, and the United States. Thanks to Walt Stumper for his diligence in keeping us updated on such matters—and for keeping the staff informed.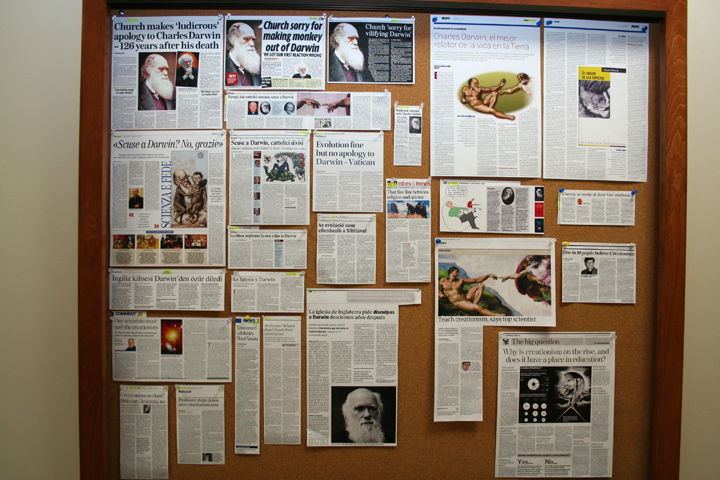 AiG's VBS in Canada—Children and Adults Saved!
Here is an exciting note from a family visiting the
Creation Museum
from Edmonton, Alberta, Canada. They attend a church in Edmonton that ran our
Vacation Bible School (VBS) program
. We will also be
holding an event there
at their church this November.
Included is a picture of them. They are Dave, Margaret, Ryan, and Katie.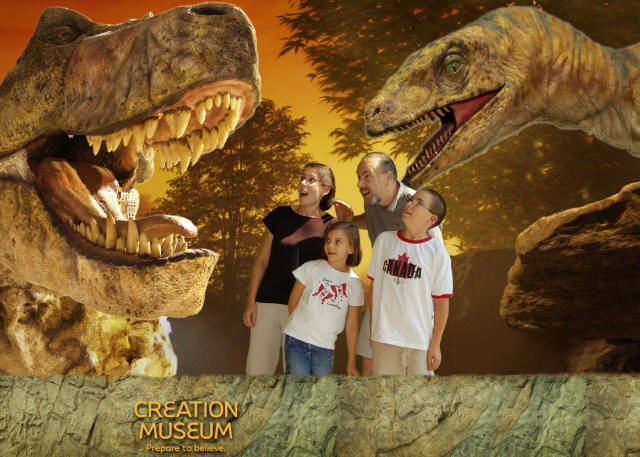 We're from Meadowlands Baptist Church in Edmonton, Alberta, Canada. We just had a week of Vacation Bible School this past July and we used the Answers in Genesis Amazon Expedition curriculum. The VBS involved many of the pastors, the intern pastors, and many volunteers. It was fantastic, and the kids loved learning about the dinosaurs and creation from the biblical point of view with an emphasis on the gospel.

Some children were saved, and we were especially excited about the neighbours of our pastor (who we had been praying about for five years) who were saved as a result of their children attending this VBS. This is our first family trip through the United States, and after seeing parts of Montana, Wyoming, South Dakota, and Indiana, we are excited to be here in Kentucky visiting our good friends, the Petrushkos, and seeing this amazing Creation Museum.
I am so thrilled this church was able to use
AiG's VBS curriculum
in Canada—and children and adults saved as a result! Wow! Just imagine if we didn't have the freedom to get AiG's message and such materials into other countries! Praise the Lord. Seeing people saved—that's what it is all about. We certainly need to spread the message as far and wide as we can. "The harvest is plentiful but the laborers are few."
Morning Speaker
The morning speaker at AiG's Thursday staff meeting was Shawn Edwards from Hebron Baptist Church (located off the next I-275 exit east of the Creation Museum exit). Hebron Baptist Church is celebrating 50 years this Sunday. Usually each Thursday, AiG invites a Christian leader/pastor to bring a devotional to the staff. I have included a photograph of Shawn as he spoke to the staff yesterday.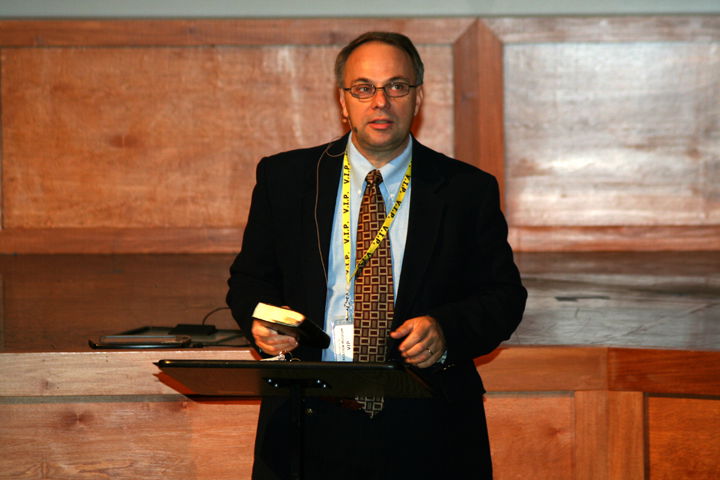 Devotion
Rest from war? I will not do this thing!

(2 Samuel 10:18–2 Samuel 11:2,11) And the Syrians fled before Israel; and David slew the men of seven hundred chariots of the Syrians, and forty thousand horsemen, and smote Shobach the captain of their host, who died there. And when all the kings that were servants to Hadarezer saw that they were smitten before Israel, they made peace with Israel, and served them. So the Syrians feared to help the children of Ammon any more. And it came to pass, after the year was expired, at the time when kings go forth to battle, that David sent Joab, and his servants with him, and all Israel; and they destroyed the children of Ammon, and besieged Rabbah. But David tarried still at Jerusalem. And it came to pass in an eveningtide, that David arose from off his bed, and walked upon the roof of the king's house: and from the roof he saw a woman washing herself; and the woman was very beautiful to look upon. . . . And Uriah said unto David, The ark, and Israel, and Judah, abide in tents; and my lord Joab, and the servants of my lord, are encamped in the open fields; shall I then go into mine house, to eat and to drink, and to lie with my wife? as thou livest, and as thy soul liveth, I will not do this thing.

There is no rest from our war as we face our greatest temptations following victories when we have decided to lay our armor down and relax while others fight.
Thanks for stopping by and thanks for
praying
,
Ken