For the last week we have watched and listened to information about the Russian invasion of the small country of Georgia. We watched TV with a sickening feeling when we heard that thousands of people had been killed. The news reports continued to tell of the thousands of refugees that have fled from their homes away from the fighting.
When we hear a news report like this from a country such a long way from our homes, it is hard for us to visualize the suffering, the paralyzing fear, the sorrow, and the uncertainty that these people are facing right now. However, the reality of this war and the reality of the refugee camps came to AiG today when Diana Crandall, Answers WorldWide Translation Coordinator, received a phone call directly from a refugee camp in Georgia. Diana's first response was to ask the caller if she was safe at this time and she responded, "The bombing has stopped but the Russians are still here."
The request from this missionary worker was for permission to translate our booklet, "Why Is There Death and Suffering" and Dr. Tommy Mitchell's booklet "Why Does God's Creation Include Death and Suffering?" into the Georgian language for immediate publication and distribution. The missionary worker spoke with such compassion for the Georgian people and stated that these books/booklets were exactly what these people needed. Many people in these camps have lost family members and close friends to the Russian invaders.
Diana assured her that we would fast-track this request so that the books and booklets could be available as quickly as possible. Answers WorldWide will attempt to raise the funds for immediate translation and printing. What a great open door to the suffering people of Georgia, as AiG once again gets the call to minister in another country of the world.
Please be in prayer that God will provide $10,000 right away to meet this urgent need for translation and printing. Please also be much in prayer for this very special missionary and her fellow missionaries that are ministering to these hurting people in Georgia. I don't normally ask for funds in this blog, but for such an urgent request, if any of you reading this blog would like to contribute to this project, please donate through the AiG website or call AiG customer service at 1-800-778-3390.
Dragon Nears Completion
Sometime in the next month or so, the new sculptured dragon will be moved to its permanent location in the museum's Dragon Hall bookstore. I have included a photograph to give you a sneak preview of what the dragon will look like.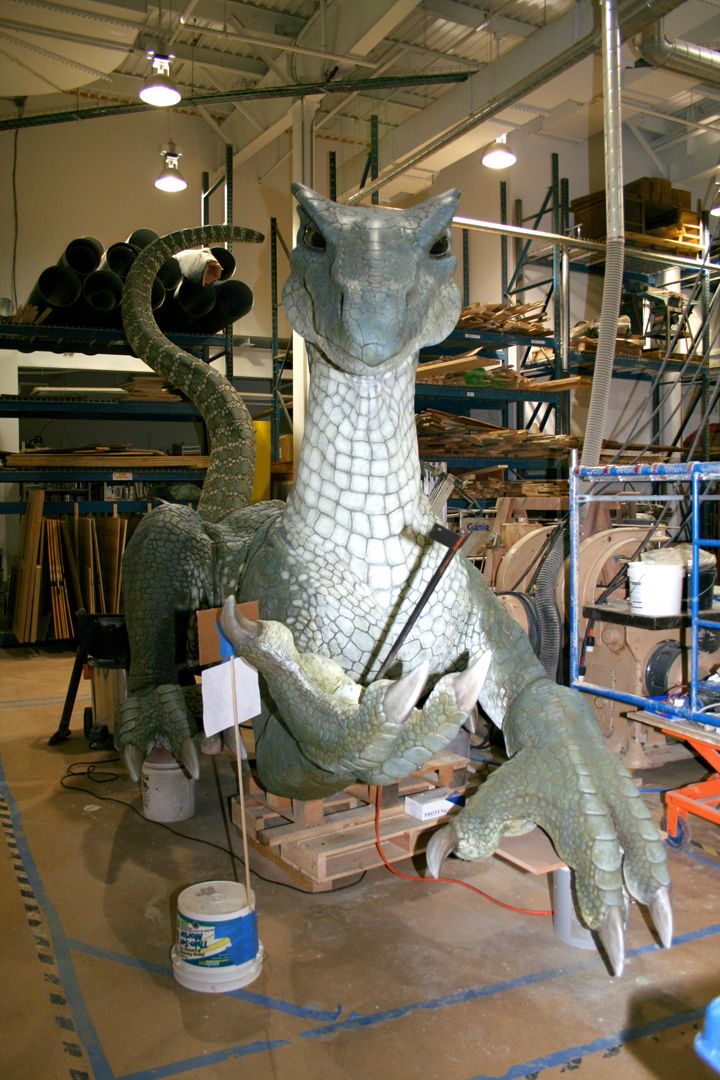 More Staff Training
I mentioned in a
previous blog
that "retired" local businessman Ron Beshear is volunteering to help AiG with staff training as we all at the ministry endeavor to work as unto the Lord and give the best service we can to our supporters/visitors. I have included three photographs of Ron taken at the Thursday staff meeting as he interacted with various staff members.
Devotion
The great secret

(Judges 13:18) And the angel of the LORD said unto him, Why askest thou thus after my name, seeing it is secret?

It is our privilege and duty to reveal the great secret that the name of God is the Lord Jesus Christ, hid in the Old Testament & still is not known to many today.
Thanks for stopping by and thanks for
praying
,
Ken