AiG's Chief Communication Officer, Mark Looy, has been on vacation with his family in Orlando, Florida. Mark sent a report today regarding lessons he learned from the theme parks he visited.
He saw three things about the sister theme parks of Universal Studios and Islands of Adventure (located right next to each other) that reminded him of our Creation Museum in one way or another. Two were negative things: the Jurassic Park water ride had some evolutionary content (e.g., stating that dinosaurs lived a long time before man appeared) and there was also the high cost of entering the parks ($71, plus $12 to park!) and purchasing some food (can you believe $7.29 for just a hot dog and chips at Islands of Adventure?)—this was all more than $90! It makes our world-renowned Creation Museum quite a bargain—admission (and no charge to park) and a full hot meal is under $30. A third of the cost! And we continue to get raves from our guests about the quality of the museum (and its hot lunch menu) and the biblical education they receive (as well as some fun).
The positive? Universal is a gorgeous theme park. The layout and the design of the buildings are first rate. And it just so happens that years ago our chief museum designer Patrick Marsh worked as a set designer for two of Universal's major rides. Both places he worked on are highly, highly attractive.
While in Orlando, Mark's son participated in a baseball tourney. Mark sent this report about his son:
Christopher batted 4 for 4 today in the Northern Kentucky Knight's final game in the USSSA baseball tournament in Orlando, Florida (in the age 15 level). They played on the fields used by the major league team the Houston Astros for their spring training games. In the attached photo Christopher (in an earlier game) hits a double to right center. Unfortunately the Knights did not produce many runs this week, but acquitted themselves anyway against some competition labelled "major league" while the Knights were listed as "AAA" (that's one level below "major league"). Teams came to Florida from as far as Puerto Rico, Texas, Arkansas, Illinois, and states in the East.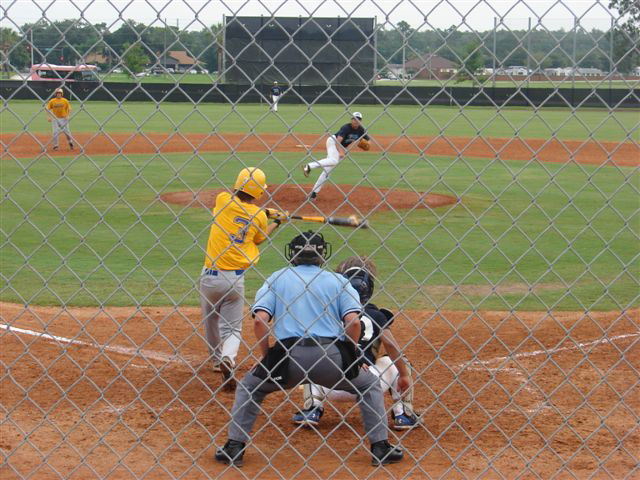 Being an Australian who loves cricket, it is hard for me to understand what all this means!
Cute Photos
This is a photograph of a cute young lady (Mary) who wanted her photograph taken with me. Her parents brought her to the Creation Museum recently.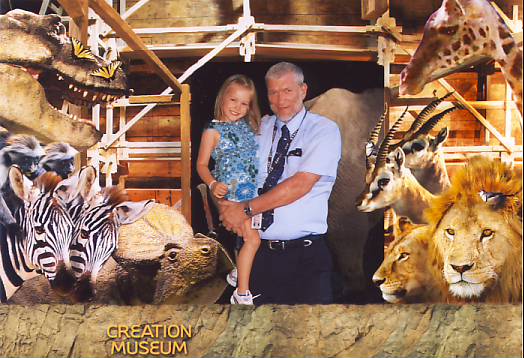 This is a photograph of AiG's Exhibit Designer (Patrick Marsh) and his wife taking Buttercup for walk to meet Creation Museum guests.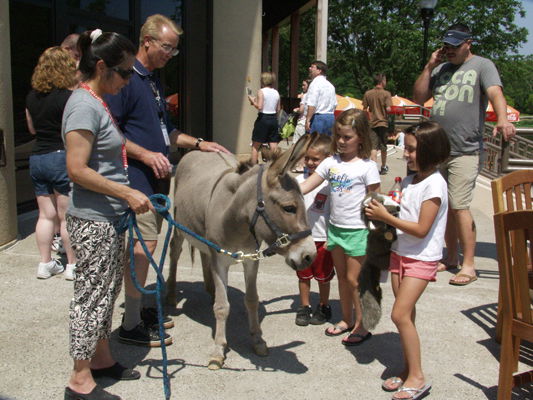 Thanks for stopping by and thanks for praying
Ken