On Monday this week, I was pleasantly surprised to meet up with two special visitors to the Creation Museum.  Wes and Diane Fittell work with a mission organization in Australia (that was founded in Australia but now reaches around the world) called Open Air Campaigners (OAC).
Their official website states:
OAC Ministries works in partnership with local churches in order to communicate Christian principles and values to today's generation.OAC Ministries is a non-profit organisation.
OAC Ministries serves local churches, communities and families through: community programs secondary school seminars primary school Christian Education programs church based activities holiday programs for children and families training seminars seniors programs . . . and more.

OAC Ministries' staff present the good news of Jesus Christ to people of all ages using innovative methods including puppets, drama, music, multimedia, and topical talks.
This visit was extra special to me for a number of reasons:
First, I am an Australian (as most of you know), and my parents used to host OAC workers in our Australian home as these dedicated Christian workers ran special programs in the towns we lived in (in Queensland).
It was at an OAC program for children in Innisfail, North Queensland (when we lived in a town called Mundoo), where at around 10 years of age, I went forward at a meeting in response to the challenge from the OAC worker to be a missionary for the Lord. At that time, I committed to the Lord that I would go wherever He wanted me to and be a missionary for Him. Little did I know that meant being called as a missionary to the USA to call the church and culture back to the authority of the Word of God, be a founder of Answers in Genesis, and see the vision of the Creation Museum become a reality.
Wes and Diane Fittel attend a church in Australia where dear friends of ours and some of our family members attend.
I was able to give Wes and Diane a behind-the-scenes tour of the AiG ministry and the
Creation Museum
—and give them an update on the ministry. No doubt they will be sharing this with others in Australia when they return.
I have included a photograph of Wes and Diane taken in my office on Monday.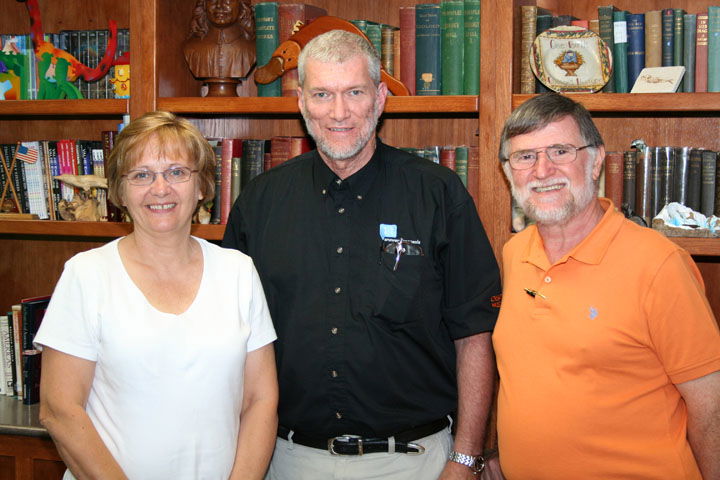 ANOTHER SPECIAL VISITOR
On a few-hour layover in our Northern Kentucky/Cincinnati area, Robert McFarland, one of the VPs of the National Religious Broadcasters, stopped by the Creation Museum for a tour and to meet with a few of us. AiG became an NRB member when we started the ministry and launched a radio program (Answers) in 1994. The NRB is an association of Christian communicators (representing 1400 ministries) who work in the electronic media to spread the gospel. Two years ago, NRB awarded this AiG site with the "Website of the Year" award, and back in March at the NRB national convention in Nashville, AiG/Creation Museum won their first ever award for "Best TV commercial" (which promoted our museum).
Robert says that he looks forward to returning with his wife and six children. He toured both the museum and AiG's radio studio with Dale Mason of our staff and told Dale that all exceeded his expectations and that he is anxious to share what he experienced with Dr. Frank Wright (President/CEO of NRB) and others at their offices near Washington, D.C. A few years ago, Robert worked for Dr. D. James Kennedy in a ministry where he offered spiritual counsel to members of Congress and their staffs (the James Kennedy Center for Christian Statesmanship). Dr. Kennedy, before he passed away last September, was the honorary national chairman of our Creation Museum during the years it was under construction.
The next day, Robert sent an email to us stating:
Thanks for carving out so much of your day to give me a tour of the Creation Museum and giving me the "story behind the story." I am in awe as to how much planning and scholarship and painstaking effort went into implementing this big vision. And I am pleased to hear that you have even bigger plans to follow up this big vision. May God bless you and the rest of the team at AiG.
We are finding that many people (like Robert) who wish to visit the museum and who might be flying somewhere within the Midwest or through the region are planning stops (layovers) in our Cincinnati area so that they can visit the museum. AiG is only two exits west of the large Cincinnati Airport (about 7 miles away)–it surprises most people that the airport is not in Cincinnati, Ohio, but across the Ohio River and here in Kentucky.
Tell your friends who might be thinking of planning an airline trip taking them through this region about the museum and encourage them to have a layover in Cincinnati for a few hours.
In the museum photos, Robert is in the dark blue shirt standing in the middle with me, flanked by Dale Mason (VP of Marketing & Media) and Mark Looy (Chief Communications Officer, in the light blue shirt).
As Robert was returning to his Washington, D.C.-area office, we are returning to Kentucky after our Washington, D.C., visit. I will give you an update on all the happenings on my blog tomorrow.
DEVOTION
Refuse to respond

(Isa 48:12-13)  Hearken unto me, O Jacob and Israel, my called; I am he; I am the first, I also am the last. Mine hand also hath laid the foundation of the earth, and my right hand hath spanned the heavens: when I call unto them, they stand up together.

The hand of the Lord Jesus Christ laid out the universe and all creation, and they respond to His call, but, some named the called refuse to respond to Him.
Thanks for stopping by and thanks for
praying
.
Ken