She was housebound or in a hospital for more than a year, so what was the first thing Elizabeth M. of Cincinnati wanted to do after her bone marrow transplants and chemo treatments? Well, her first venture out into the public after 13 months was . . . the Creation Museum!
Her mother, Donna, contacted us many weeks ago and asked whether her 12-year-old daughter could visit the museum—but outside of regular hours. You see, she was concerned that with her daughter's immune system being so fragile after all the chemo treatments, Elizabeth was at risk of picking up something from a crowd of people inside the museum—and getting very ill. So, yesterday, we opened the doors early for them.
In the photo (left to right): mom, Donna, standing behind Elizabeth, son, Jeffery, and mother-in-law, Joan, visiting from upstate New York. (In the background is the mannequin of a character who pops up in a few places in the museum.)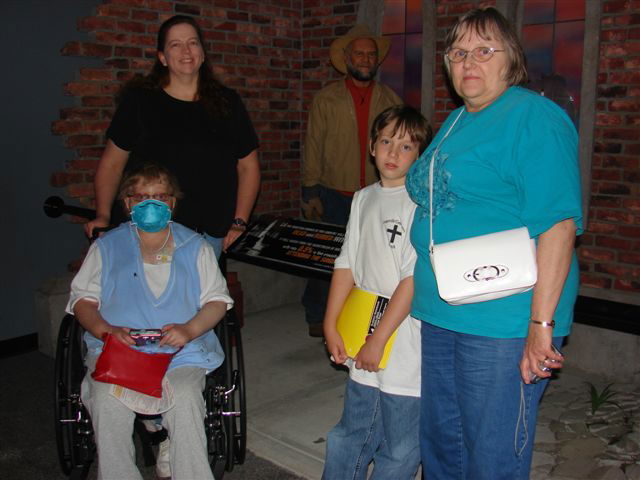 Elizabeth could not see it all because of a medical appointment, but she plans to return. Her mother called us later in the day and said that they all had a "wonderful time." Elizabeth then added: "I thought everyone there was so nice to my family and me." She particularly enjoyed the Adam and Eve exhibits, the Ark display, and The Last Adam film. On her next visit, she wants to take in a planetarium program and go over to our new petting zoo. "I can't wait to come back," she said. "We all had a great time. Thank you for everything."
UPCOMING CREATION MUSEUM EVENTS
It will be a hoppin', clappin' good time when you join Buddy Davis in concert Thursday at the Creation Museum. Buddy's vocal talent, as well as his mastery of multiple stringed instruments, combine with audience enthusiasm to produce a wonderful hour of free family fun.

Bring the whole family to enjoy Buddy in concert at 1:00 p.m. this Thursday, June 5. Can't come this week? Then join us on Wednesday, June 11, at 1:00 p.m. or Friday, June 13, at 7:00 p.m.

On Friday evening June 6, you can sharpen your apologetics skills at the same time you are learning important Christian truths by hearing our own Dr. Terry Mortenson present "The Age of the Earth: Why it Matters" at 6:30 p.m. in Discovery Hall.

And if you and your family are Buddy Davis fans, be sure to purchase tickets for Let the Rain Come, a musical sing-along starring Buddy Davis and Geri Campbell scheduled for Saturday, June 14, at 5:00 p.m. and Friday, June 20, at 7:00 p.m. With lots of music and fun special effects, it tells the story of Noah and the great Flood. Buddy and Geri produced a new CD in Nashville with all of the show's easy-to-sing songs. Pick up a copy for your family when you come to the show or purchase one online from our bookstore.

We also have Buddy Davis Creation Adventure Workshops scheduled Friday, June 6, at 11:00 a.m. and 2:00 p.m.; Thursday, June 12, at 11:00 a.m. and 2:00 p.m.; and Friday, June 13, at 11:00 a.m.

Our Special Speaker series is winding to a close for the summer, but you can still hear Carl Kerby on Monday, June 9, at 1:00 p.m. presenting "What is the Best Evidence that God Created?" and on Friday, June 13, at 1:00 p.m. presenting "Remote Control: The Power of Hollywood on Today's Culture."
As always, you can check out a full list of events at our website, www.CreationMuseum.org.
DEVOTION
This is Him We Spoke About

(Isa 25:8-9)  He will swallow up death in victory; and the Lord GOD will wipe away tears from off all faces; and the rebuke of his people shall he take away from off all the earth: for the LORD hath spoken it. And it shall be said in that day, Lo, this is our God; we have waited for him, and he will save us: this is the LORD; we have waited for him, we will be glad and rejoice in his salvation.

Today we speak to the lost that Jesus is Lord who they cannot see, but one day when He comes back we will say, "This is our God, we have waited for Him."
Thanks for stopping by and thanks for
praying
.
Ken