Last night was a dress rehearsal of the special musical, Let the Rain Come, written and produced by AiG staff members Geri Campbell and Buddy Davis. This is a fun musical for all ages about Noah's Ark. Buddy wrote some new songs, and he and Geri (along with some helpers) have a fun time as they act out their parts for this special presentation. The debut of this musical is Friday night, when they will give two performances. I have included some photographs to give you a sneak preview. You can find out more information (including how to obtain tickets) from the Creation Museum's website.
400,000th VISITOR SOMETIME THIS MORNING
This morning, Wednesday, May 21, the 400,000th visitor to the Creation Museum since opening just under 12 months ago will come through the doors. We had more visitors than expected yesterday, so we predict the 400,000th person will arrive around late morning. We will be ready to present a special gift certificate and other items to whomever this will be. We will also take photos with the three founders. This is a milestone in the history of the Creation Museum.
PASTORS MEET AT AiG
Each month, AiG speaker Carl Kerby heads up a ministry where we invite pastors and their wives to visit AiG and the Creation Museum. We provide them lunch, and a supporter provides funds to put various resources into their hands to use in teaching their congregation and reaching out to others. Carl sent me this report about the pastors who attended this program yesterday:
Over half of the 34 pastors drove more than two hours to attend the meeting today. It's so encouraging to see pastors who are so interested that they are willing to come that far to see what we're doing. After the meetings today, one of the pastors came up to me and told me how they had bought The Last Adam DVD to show to their congregation last Good Friday. He shared with me that they had four people receive the Lord that day. He was so encouraged by the quality of the materials we have.
As we were getting ready to leave the Last Adam Theater for lunch, he raised his hand and asked if he could say something. In front of all the other pastors, this man said, "On behalf of all of us, thank you guys for making a tool like this to help equip our people to share the gospel." What a blessing.
GOOD FOR BUSINESS, BUT NOT FOR THIS BUSINESS PUBLICATION!
The Creation Museum pops up often in the media. While we appear in the usual media settings on a frequent basis (for the first two days of the week, it's been the following: a reporter and photographer with Sweden's leading morning paper, a videographer from Scotland—originally from Egypt—who is producing an Arabic-language DVD on the museum, Cincinnati Enquirer photographers and a reporter who will have a major article on our one-year anniversary this weekend, plus the Bible Broadcasting Network), we just learned of what was printed about us in an editorial in the Kentucky Business Journal. An editorial writer with the journal, who was defending casino gambling in the state, wrote: "Why . . . if casino gambling becomes a reality in Kentucky, maybe even the Creationism Museum would apply for a license in order to increase its already-shockingly high patronage."
Yes, we often are brought up in the strangest of places! You can continue to "bet" on that! However, did you catch the irony of this? Here is an editorial writer for a business publication bemoaning the fact that our museum is so popular, when he should be happy—writing for a business journal—to see so many tourist dollars coming to Kentucky! We're great for the state's economy.
Later this week, our friends at the CDR Radio Network will be here—broadcasting live as part of our one-year anniversary celebration. Plus we are inviting the media to cover our grand opening of the petting zoo this Friday at noon.
CONCERTMASTER AT AiG
AiG staff were privileged Tuesday morning to hear violinist and concertmaster with Cincinnati's Symphony Orchestra (considered to be one of the top such orchestras in America and the world—recently invited to play in China during the Olympic Games), Tim Lees and his wife, MaryEllen, (who played piano–she is very talented too) minister to the staff as they played renditions of various hymns. What a wonderful time of praise. Tim and MaryEllen and their two children then spent some time touring the Creation Museum. I have included a photo of Tim and MaryEllen as they praised the Lord through their music.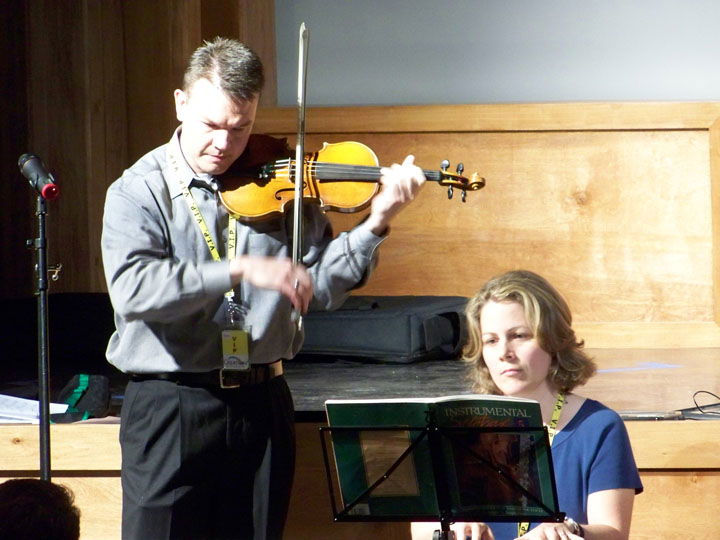 SOME NEW PETS
Creation Museum VP, Mike Zovath, introduces himself to one of the new pets at the Petting Zoo.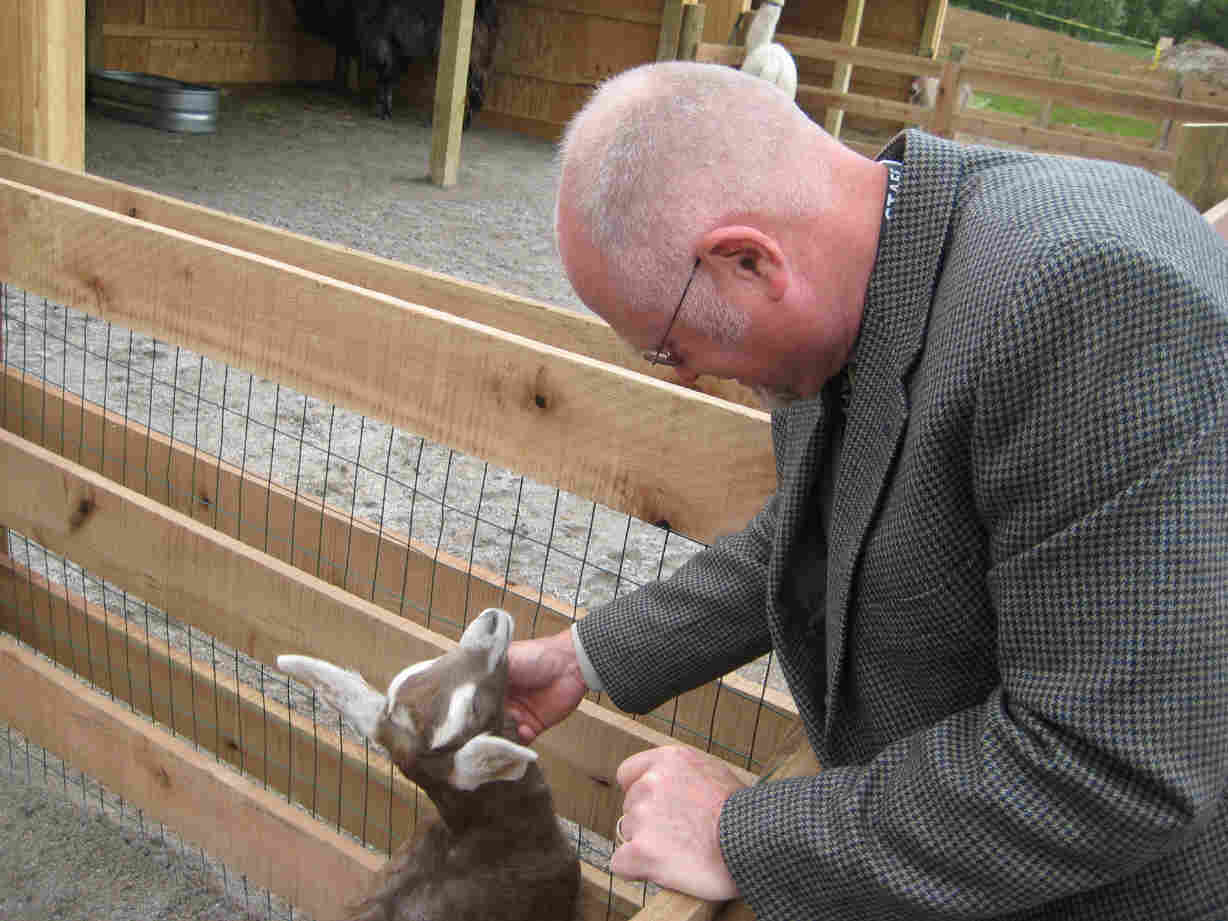 As well as two goats, two baby doll sheep also arrived yesterday.
The Petting Zoo will be opened officially on Friday afternoon.
CREATION MUSEUM CELEBRATES ONE YEAR:
First Anniversary Events Kick-off Friday with the opening of Petting Zoo, a new musical, and a fireworks show.

WHAT: Answers in Genesis' state-of-the-art Creation Museum and planetarium opened one year ago on Memorial Day weekend outside Cincinnati. As of today (Tuesday), the museum has drawn over 399,000 visitors. Museum staff are set to mark the crossing of the 400,000-visitor milestone (probably late Wednesday morning) and the one-year anniversary on Friday with extra fun for the whole family, including the opening of the museum's newest attraction: a petting zoo with unique and exotic animals.

WHO: Answers in Genesis president and co-founder Ken Ham–the visionary behind the museum–will be available onsite for interviews, as well as chief communications officer and co-founder Mark Looy.

WHEN: Friday, May 23 (10 a.m.–events get under way)

12:00 p.m..–Grand opening of the petting zoo (across the museum lake) 5 p.m.–Tethered hot air balloon rides 6:30 p.m.–Premier performance of new musical "Let the Rain Come" 9:30 p.m.–Fireworks show by Rozzi's Famous Fireworks

WHERE: The Creation Museum 2800 Bullittsburg Church Rd. Petersburg, KY 41080 (exit 11 off I-275 – west of the Cinc. Airport)
Thanks for stopping by and thanks for
praying
.
Ken