What a thrill it was for the AiG staff today to be brought a special devotion from our special Family Camp speaker—Brian Edwards (see photograph). Brian is an apologist from England with a phenomenal gift of teaching/communication. He spoke to the staff this morning on the authenticity of Scripture and the gospel—and that the message of the Bible is the message of the gospel. You can listen to his staff devotion by clicking the audio link below. You can meet Brian, and all our other speakers at the Answers in Genesis Family Camp. Hundreds have already registered—but there is still room to attend the meetings. AiG's website has more information.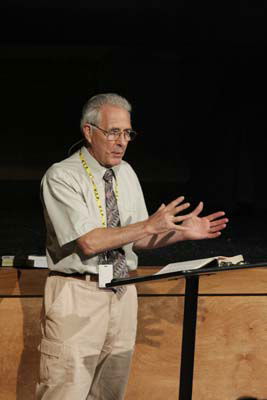 Listen to the Brian's address to the AiG staff this morning.
A special gift
This morning I had a very special visitor who gave me a very special gift. Safaa Fahmi from Egypt visited AiG and the
Creation Museum
to seek permission to use AiG materials to be translated into Arabic. Safaa is the chief editor of the first Arabic Bible Commentary (not translated). A major part of his plan is to make the commentary appealing to the contemporary man and respond strongly to the attacks against the Bible. He sees AiG material as integral to his ministry in Egypt and other Arabic speaking countries.
Safaa presented me with a one-of-a-kind, hand-done, copy of our booklet Dinosaurs and the Bible in Arabic. They hope to get this printed along with other booklets in Arabic. But it was such a special thrill to receive this handmade copy of this book—what a treasure that will be—and what a reminder of God's people in other countries laboring hard to present the gospel to their fellow countrymen.
1800 at the Museum today! Praise the Lord.
Thanks for stopping by and thanks for praying.
Ken