Our eldest son Nathan joined us in praying and fasting last week on AiG''s special prayer and fasting day. After this day of prayer, Nathan sent me the following email, which I thought would be good to share with you all:
2 Chronicles 32: 1 After these things, and the establishment thereof, Sennacherib king of Assyria came, and entered into Judah, and encamped against the fenced cities, and thought to win them for himself.2 And when Hezekiah saw that Sennacherib was come, and that he was purposed to fight against Jerusalem, 3 He took counsel with his princes and his mighty men to stop the waters of the fountains which were without the city: and they did help him. 4 So there was gathered much people together, who stopped all the fountains, and the brook that ran through the midst of the land, saying, Why should the kings of Assyria come, and find much water? 5 Also he strengthened himself, and built up all the wall that was broken, and raised it up to the towers, and another wall without, and repaired Millo in the city of David, and made darts and shields in abundance. 6 And he set captains of war over the people, and gathered them together to him in the street of the gate of the city, and spake comfortably to them, saying, 7 Be strong and courageous, be not afraid nor dismayed for the king of Assyria, nor for all the multitude that is with him: for there be more with us than with him: 8 With him is an arm of flesh; but with us is the

Lord

our God to help us, and to fight our battles. And the people rested themselves upon the words of Hezekiah king of Judah.
"After these things" == look at the previous two chapters and all the good things that Hezekiah did. Hezekiah was a breath of fresh air compared to his father Ahaz (who was very wicked). Hezekiah is one of the few kings that the Bible testifies did right "according to all that David his father had done." In spite of all the good things that he did for the Lord, and for cleaning up the temple, and for having the passover that was the greatest since Solomon, persecution and trouble still came. Also, Hezekiah took counsel, strengthened himself, set captains of war, etc. In spite of all that he did to prepare for the fight, he realized that the Lord fought the battles. Isn't it amazing how a book written many hundreds of years ago is still applicable for today!!
We do need to be reminded that there is a spiritual battle going on 24 hours a day—and there's no doubt Satan will not want to see the AiG ministry effective, or the Creation Museum open. We can expect increasing opposition/attacks etc, the closer we get to opening a place that we believe will be a significant event in Christendom.
We Couldn't Do It Without Volunteers
Thousands of volunteers have contributed to the building of the Creation Museum. Right now, different teams of volunteers are doing a variety of things. AiG's cartoonist, Dan Lietha, was thrilled his uncle and aunt were able to spend time helping out at AiG.
Over the past couple of weeks, we've had some special volunteers helping with the museum. Vic and Doris Wester from Bennett, Wisconsin, uncle and aunt to AiG cartoonist/illustrator Dan Lietha. On their way to vacation in Florida, they stopped off on the way down to volunteer for two weeks. They helped on various areas of construction including the Noah's Ark exhibit construction. Vic is being teased by his grandkids that "Grandpa''s really old. So old that he helped build Noah''s Ark!" Doris helped coat tree leaves with fire retardant and she helped with some of the ministry phone calling too. They are excited to see the museum completed. Lots of Dan''s cousins hope to visit the museum this year too. We are thankful for the many volunteers who have helped over the past years. It's extra special for Dan to have such close relatives help in this important project.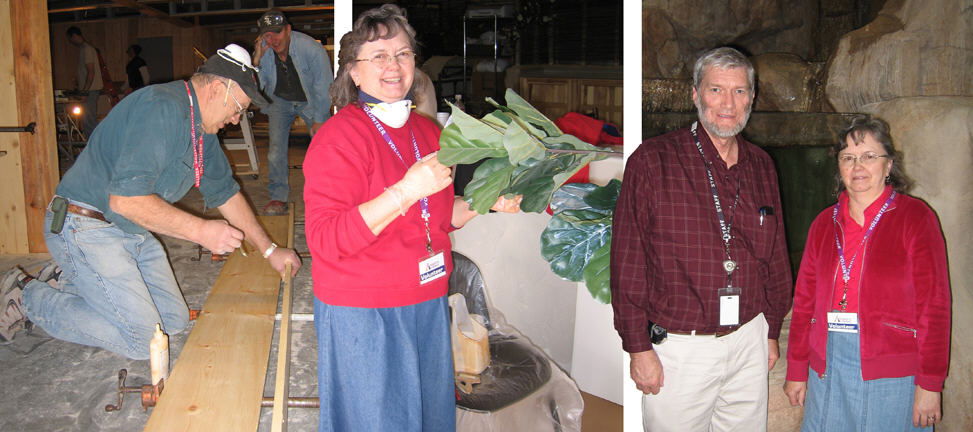 Steel for the Decks
The steel started going up for the Café decks—. What a busy place the Creation Museum is!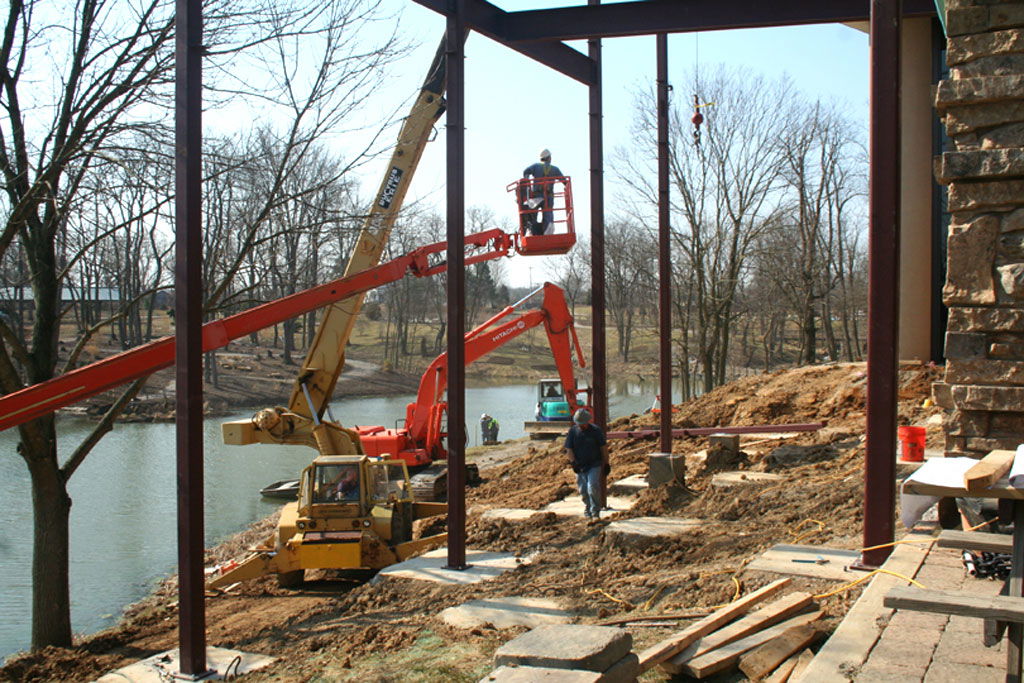 On Wednesday, I will be escorting a number of editors of one of our major local newspapers through the Creation Museum. Also, our board begin arriving for two days of meetings.
Thanks for stopping by and thanks for praying,
Ken