ANSWERS magazine has really taken off. We''ve never received so many positive comments from magazine subscribers, and subscriptions are exploding. More and more Christian organizations are calling us to be associated with the magazine. We are beginning to get an increasing number of subscribers from around the world. I believe ANSWERS will become one of the most prominent Christian magazines in the USA—and of course, we hope to begin some major advertising efforts in other parts of the world in the near future.
Here is an email we received from a United Kingdom subscriber:
I have just received today my second copy of the new Answers Magazine and I am deeply impressed with the magazine. Its overall presentation, art work and above all, the OUTSTANDING quality of the articles it contains. Please convey my heartfelt thanks to all the contributing writers as well as all your staff for their great achievement. What a blessing it is to have such a support in ones life, learning just how great and wonderful ,our loving Father, and our creator GOD is.
We recently received an inquiry from Australia where a person was given an ANSWERS Magazine, and the next morning they wanted to subscribe—they were amazed at the quality of the production.
You can subscribe to ANSWERS Magazine through this website. This link has the appropriate places to subscribe for those in the USA, UK, Australia and Canada, and other countries.
A 'BLUE' DAY AT AiG
There is one task at AiG that can be somewhat tedious--yet important: the filing of what are called AiG "blue sheets." These sheets, printed on blue paper, are a record of materials that have been shipped to customers from our warehouse. The sheets include a UPS tracking number, so that if AiG customers ask about the status of their order, our staff can retrieve the UPS receipt (pasted on the blue sheet) and find out where the package might be en route to its destination.
Well, there were thousands of orders processed at the end of 2006, and the corresponding blue sheets had to be collected and put in alphabetical order for easy retrieval. It is a daunting task as the stack gets higher and higher.
To the rescue was Jon Looy, who spent his Christmas break from Liberty University to help us catch up. He was "swimming in a sea of blue" for three weeks here. Friday was his last day as he prepared to drive back to Liberty U., and his colleagues in the administration dept. gave him the appropriate "blue" send-off : providing blue cupcakes, blue cookies, blueberry muffins, blue Koolaid, and even blue tortilla chips.
One photo shows Jon sitting in the middle of the group, surrounded by his co-workers (with his father, Mark, standing at the left)—the other photo shows Jon with a Blue Sheet and some of the blue food!
FIRST SNOW IN KENTUCKY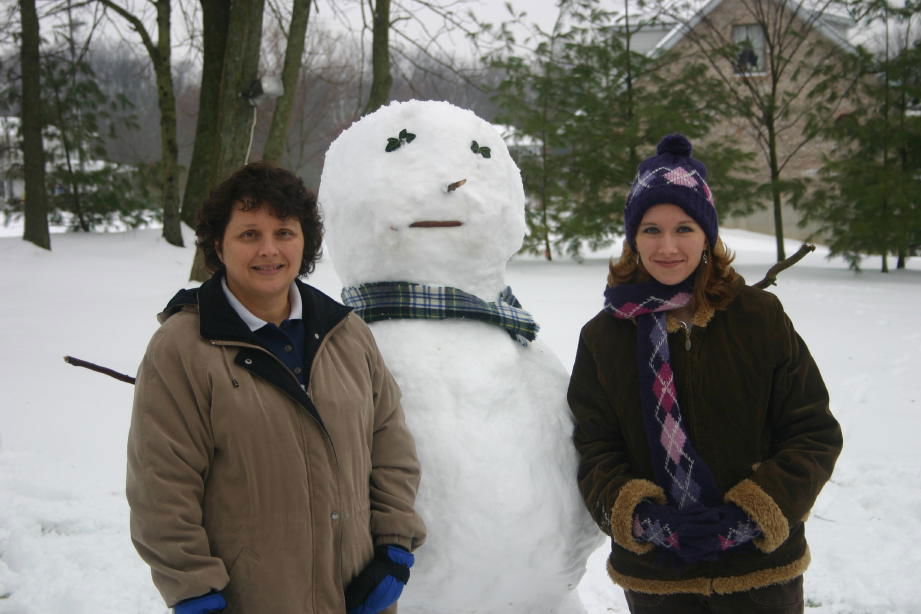 Well, we had our first major snow in Kentucky for this winter—only about 4 inches, plus some ice in places—made but it made for very slick roads this morning—many churches had to cancel services. I've included a photograph of my wife Mally and daughter Danielle standing beside their snow man!
Thanks for stopping by and thanks for praying
Ken