"This whole week has been one of the most significant weeks of my life & really has just changed me. Until this week, I never really realized how important as a Christian it is to be able to know what you believe so that you can be able to effectively witness to people about your faith." –Angela S.
This is a testimony from one of our Answers Boot Camp attendees (held last week in Thamesford, ON). She continued . . .
"I am so amazed at how God led me to go to this camp at this time in my life because I was really struggling with believing everything that the Bible says & taking God for what He says He is & many other questions. It really hit me when you said that if we as Christians can trust God with our soul, we can certainly trust His Word! There are so many things that I have taken home with me that I want to remember & apply in my life . . ." –Angela S.
A Huge Impact
Over 25 youth and young adults gathered last week at a campground outside of Thamesford, ON, for six days of apologetics, leadership, and evangelism training. Speakers included Avery Foley (AiG–US), Steven Martins from the Ezra Institute of Apologetics, Cory McKenna from The Cross Current (an evangelism ministry), and myself. The results were spectacular!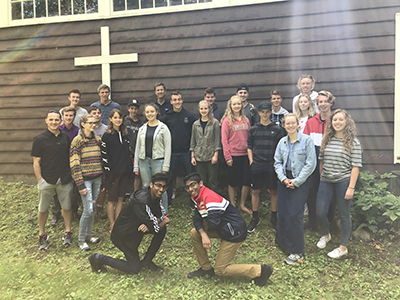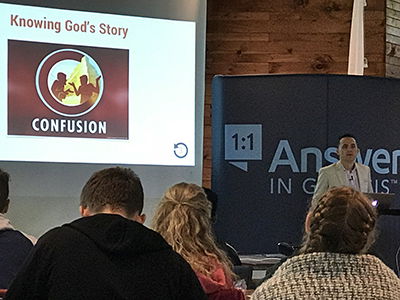 Of course, the purpose of our Answers Boot Camps is to raise up the next generation of Christian young people who can defend and proclaim the gospel in our secular culture. So I was excited when so many of the students voiced how they felt much more emboldened in their faith after receiving answers to the many questions that had caused doubt in them over the years. They were also encouraged to be around like-minded people their own age who are serious about their walk and witness for Jesus. And almost all of them said how they wanted to come back again next year!
One of our mentors, who has previously been a camper and is now studying to become a medical doctor, shared how these camps have helped him throughout his time in university:
Next Year's Camp
Mark your calendars! Next year's camp at Maple Grove Christian Retreat Centre in Thamesford, ON, will be held August 18–23, 2019. Students aged 13–18 are welcome to participate. (We are also exploring doing camps in BC and Nova Scotia next year as well.)
Ministry like this has the potential to have a truly significant impact on the lives of the next generation and is made possible by the support of people like you. If you have a heart for youth ministry and would like to support these Answers in Genesis–CA initiatives prayerfully, financially, through volunteering, or if you want more information, please contact us. (We can also mail you promotional brochures to give to potential attendees upon request).
"I overall had such an amazing week with so much fun! It was so awesome getting to know everyone who came & just hanging out & having fun during the meals and during games. I am going to tell my youth group about this & am going to get as many people from my youth group to come next year because they really will be blessed in coming." –Angela S.