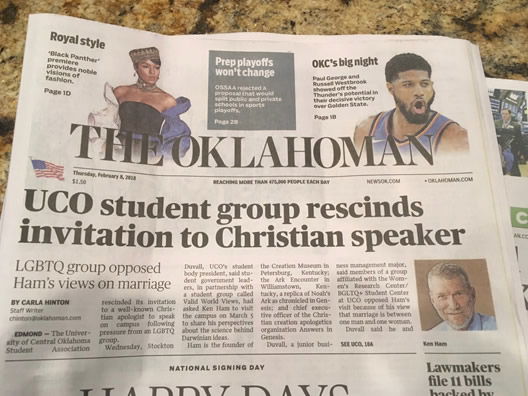 In an article in The Oklahoman (Oklahoma's largest secular newspaper) we read,
Duvall [UCO's student body president], a junior business management major, said members of a group affiliated with the Women's Research Center/BGLTQ+ Student Center at UCO opposed Ham's visit because of his view that marriage is between one man and one woman.
The article quoted Duvall further on, saying,
I want to be very clear on this, there have been members of our campus who have tried to bully me in my decision. While none of these examples have involved members of the administration, there is definitely something that must be done to address this issue. I am not the first person to be personally attacked by a very vocal group on campus that has little tolerance for opposing views.
Ironically, I was to speak in their Constitution Hall after being invited by the UCO Student Association (who had to fight the university to even get permission to have me come). Well, a tenured professor who sponsors the LGBT group on campus rallied support and put intense pressure on the UCO Student Association to rescind my invitation, which they reluctantly did.
Yet the school has sponsored and given university funding toward a Drag Queen show, and this tenured professor also sponsors a "Safe Sex Carnival," which includes explicit, so-called learning games (that as a Christian I would describe as sexually perverse). Apparently, these events are acceptable on campus, but having a Christian come and speak is not.
As I stated in an article on our website, religious liberty in America is under increasing attack by some very intolerant people. Our constitutional right to free speech and the free exercise of religion, guaranteed under the First Amendment, have been denied with the school's cancellation. After a small but vocal group on campus put up a fuss about my talk, the university's student association caved, breaking the contract we agreed on and contradicting university policies of promoting "free inquiry" and "inclusiveness" on campus. Apparently, free speech at UCO is protected only if it is the "right kind" of speech.
So what can we do?
Pray. Pray that God will preserve religious freedom and free speech throughout the West, but that, if he does not, Christians would have courage and boldness to continue to share the good news of Jesus Christ with others.

Speak. Don't be cowed into silence. In a loving, gracious, and humble way continue to proclaim the gospel and biblical truth. We still have freedom, especially compared to many other nations, so use it! The more we exercise our freedom, the harder it will be for the government to take it away.

Vote. Cast your vote for candidates who will support freedom of speech and the free exercise of religion, not those who will dampen these freedoms.

Make a "Fuss." Write Congress, the University of Central Oklahoma, and others who try to restrict our freedoms. Show them that people are genuinely concerned with the direction our nation is headed and that we won't stand idly by and let it continue.
Get More Answers on Answers News
I discussed this item on Answers News this afternoon with hosts Dr. Georgia Purdom and Bodie Hodge. Answers News is our twice-weekly news program, filmed live before a studio audience here at the Creation Museum and broadcast over my Facebook page. We also discussed the following topics:
Did the White House put the Bible before the Hippocratic Oath?

Education minister in India says Darwin was wrong

What's happening at Moody?

And more!
Be sure to join us each Monday and Thursday at 2 p.m. on my Facebook page for Answers News. You won't want to miss this unique news program that gives science and culture news from a distinctly biblical and Christian perspective.
Thanks for stopping by and thanks for praying,
Ken
This item was written with the assistance of AiG's research team.