When he was only eight years old, future web designer Joel Leineweber listened to a fast-speaking Australian man whose Bible-centered explanation of dinosaurs fascinated him. After the meeting, little Joel and his father walked up front to where the speaker was answering people's questions. When it was the boy's turn, he declared to the speaker—Ken Ham—that he loved dinosaurs and that he would work for him one day!
Now more than 15 years later, not only has Joel's dream been realized (he's worked "for Ken" as part of the Answers in Genesis web team since 2004), he is now using the talents that God gave him to reach other children with the truth of the Bible—children who, like Joel at eight, are fascinated by amazing facts from science and the Bible.
Thanks in part to Joel's hard work, Ken Ham and the staff of Answers in Genesis have realized a dream of their own: an exciting, interactive website for children called KidsAnswers.org.
AiG recognizes that the internet can be a dangerous place for children, and we want to offer parents a worry-free website for their kids to learn about the world around them, the truth of God's Word, and their need for the Savior.
In fact, Ken and many others at AiG have wanted to create a very unique and special site for children and parents for years.
Finally, the time has come. "Frankly, as a father and grandfather myself," Ken said, "I know that it's not easy to 'train up a child in the way he should go' in our modern culture. I have a passion for parents to be thoroughly equipped, and that's why we created this site."
Christian parents have shared with AiG web staff that there are woefully few Bible-based internet sites that moms can feel good about allowing their children to "surf," and that a youngster will actually want to spend much time visiting.
Web personnel at AiG gathered some months ago and heard afresh Mr. Ham's passion to change that, and today, they have unveiled the major "first phase" of what Ham and team hope to develop into one of the most popular destination sites for Christian kids on the web.
KidsAnswers.org is already loaded with exciting content that's fun, safe, and honors our Creator—and there's only more to come. You'll find kid-friendly Christian video streams, photos and facts about a new animal each week, downloadable coloring sheets (great for teachers, too!), colorful charts and posters from AiG's popular Answers magazine, and educational activity pages.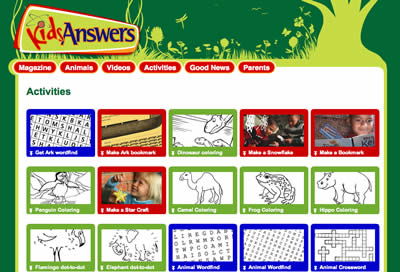 "We want to partner with parents to exalt God's Word and to leave a godly legacy for the next generation," said Dan Zordel, a father of three, who—in addition to his normal duties as the ministry's director of resource development—led AiG's web team on this long-anticipated project.
"After all, children face the indoctrination of evolutionism every day. Why not give them the tools they need to see the truth and to defend what they believe?" concluded Zordel.
Our prayer and hope here at AiG is that many thousands of kids (just like Joel) will grow up with a better understanding of the universe that God created and a passion for fulfilling the call that Christ placed upon all believers (Acts 1:8).
Visit—and bookmark—KidsAnswers.org today and let us know what you think.