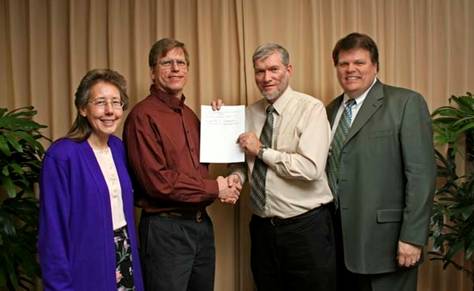 Written by veteran homeschooling parents Richard and Debbie Lawrence, this curriculum approaches science from a biblical worldview, emphasizing God's handiwork in the world and showing how real science supports the biblical account of creation.
According to Ken Ham, "This is an exciting opportunity for AiG–USA to have a part in influencing the Christian school and homeschool movement with a biblically based curriculum that is ardently creationist."
These comprehensive textbooks include short, easy-to-teach lessons that allow parents the flexibility to work with multiple ages at the same time.
What started out as frustration for Debbie Lawrence as she tried to find a biblically based science curriculum for their own children (both Debbie and Richard are trained as electrical engineers) soon became the genesis of the God's Design series. That was in 1999.
Debbie said that it was through her frustration that she realized there must be other people who feel the same way. So, to market they went. Their first book focused on God's design for life and was published in 2001. In addition to three life science books, the complete series also includes eight additional texts, covering God's Design for Heaven and Earth, God's Design for Chemistry and God's Design for the Physical World.
These science books (now 11 in all) have received outstanding reviews from educators and homeschoolers alike. Many users share that the kid-friendly, hands-on activity in each lesson makes science not only interesting, but fun as well.
When the Lawrences sent their curriculum to AiG–USA in hopes of an endorsement, God answered their prayers in a big way. Not only do we endorse it—we offered a unique publishing arrangement that includes making the series an official AiG–USA product and upgrading it in the months to come.
"We are very thankful that God brought the God's Design curriculum to our attention," said Dale Mason, Vice President of Marketing & Media at Answers in Genesis–USA. After searching for a science series that stays true to the Genesis account and is not biased by the beliefs of secular scientists, Mason stated that "it was obvious that this is a solid product with huge potential."
As exclusive publisher, AiG–USA will honor and expand the Lawrence's existing distribution network. AiG–USA will also promote the series via its hundreds of annual speaking events, daily radio program, quarterly magazine, website and its newsletter that is mailed to over 80,000 homes each month. "This is a win-win relationship," declared Mason. "We're delighted to be able to take the Lawrence's high-quality content to the next level."
Authors Debbie and Richard Lawrence were thrilled to be approached by Answers in Genesis—an organization that they greatly respect—to help more parents teach their children how to stand up for their faith and develop a solid, biblical worldview. Now, together with AiG, they share a common passion to teach children the wonders of God's creation.