The Worldwide Ministry Field
Like the circuit-riding pastors from America's past, Dr. David R. Crandall of Answers Worldwide journeys from church to church, meeting place to meeting place, to preach the Word of God. Unlike those pastors, his circuit takes him from one country to another, one continent to the next—often in the same week.
From the craggy mountains of Montana in the U.S. to the exotic climes of Malaysia, Dr. Crandall brings a message about the authority of Scripture with a contagious passion. As with all of our speakers, we hope you'll follow along with him on the Answers Worldwide blog as he speaks, encourages, trains, and journeys to distant locations. Take a quick peek at his itinerary:
Please pray that my horse and I will become good friends and that we will be able to safely navigate the very narrow passageways that lead to the top of the mountain. On an earlier such retreat, my horse and I took a death-defying plunge down the mountain due to a scare from a bear. That was one of the closest near-death experiences I have ever had. This is black bear and grizzly bear country, and we will need the bears' Creator to watch over us during this retreat into the mountains. Please pray for a revival on the mountain. [from "From the Mountains of Montana"]
God had some great surprises for me.... Ng Li En, Reservations Executive for Gulliver's Travel met me at my hotel to begin the full day of hotel hopping. During the day I often heard Ng use words like "blessings" and "joy" which are not common words to unsaved people. Well, after I inquired I discovered that this 24 year agent was a born again Christian, out of all the people that could have met me, she was provided by the Lord. [from "Surprise in Singapore"]
A missionary friend from Portugal called us two years ago to share something about his ministry. In the course of the conversation, he told us about a young man, Rui, who had recently been saved and had developed an intense interest in the book of Genesis. The missionary told how Rui was now reading Answers in Genesis books and then translating them into Portuguese so that he could understand them even better. [from "Run, Rui, Run"]
If you're not familiar with Answers Worldwide, this missionary arm of Answers in Genesis features a website with hundreds of translated articles in many languages, such as Greek, Spanish, Chinese, Creole, and more. So, after you've read about Dr. Crandall's travels, be sure to share these articles with your friends around the world.
In Store: A Monkey, a Dinosaur, and Grand Adventure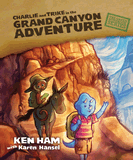 Charlie and Trike are also featured in the Creation Museum, so make sure you bring your children when you visit Charlie and Trike—and the kid-friendly exhibits—in the Creation Museum.
Take one curious monkey named Charlie, add a fun-loving dinosaur named Trike, send them into the depths of Grand Canyon to uncover the secrets of this amazing monument to catastrophe—and what've you got? The first in a series of action-packed children books called Charlie and Trike in the Grand Canyon Adventure.
Charlie and Trike set off with their burly guide ("Captain Wes") to hike deep into Grand Canyon. But there's trouble on the trail when young Charlie goes off on his own to dig for fossils.
Once in the Canyon, Trike explains to his friend about the worldwide Flood and why we can trust the Bible. Finally, with the guide's help, Charlie understands the truth in a way that will change his life forever.
This beautifully illustrated, highly interactive learning tool will fascinate children of all ages, and parents and teachers alike will enjoy the incredible adventure, brought to life with pull-out features, maps, flaps, and a panoramic three-page canyon drawing!
Charlie and Trike bring more than simply adventure and fun—they teach children that they can trust God's Word. You're invited to use this book (and all the books in the Green Notebook series) as an entertaining learning tool. Studying the world God made is one of the most exciting adventures of all.
Grab your backpack and hiking boots and hit the trail with Charlie and Trike in the Grand Canyon Adventure.
Question of the Month
I was wondering if you had ever thought of having a section just for children on your website.... It would be really nice if you had a kids section of your website just like you have the tear out kids section as a part of your magazine.
Children are an important part of our ministry, since we want to help parents teach them to trust Scripture from a young age. There's no better foundation than God's Word.
As you pointed out, each issue of Answers magazine features a pull-out Kids Answers mini-magazine designed especially for the little ones in your home. They'll love the kid-friendly information, images, and games. For example, the most recent issue examined the extreme island of Madagascar and the lemurs that are found there and nowhere else. (It's so much fun they might not even realize it's educational.)
We certainly don't want to leave our web visitors out, which is why we built a companion Kids Answers website. There, you'll find kid-friendly articles about stories your children are hearing in the news or at school, puzzles, coloring pages, and games—all from a biblical perspective. In fact, you'll even find an archive of the pull-out magazines there too.
Each week, we also feature animals from around the world, such as hippos, Australian lungfish, squid, and many more. Your kids will also enjoy the special videos just for them. They can journey through The Pilgrim's Progress, study cockroaches, or take a wild ride with the Creation Adventure team.
And, most importantly, the Kids Answers site features the good news about our Creator and Savior—there's nothing more important for them to learn.
We hope you'll take a look (there's a parents' section to get you started) and share it with your children today.
(Have a question for InSite? Let us know! Be sure to mention that your question is intended for InSite.)
Did You Know?
Speaking of kids, did you know that our Kids Answers site is the seventh most popular area of our site based on pageviews? Children from around the world have found this resource and continue to make it a favorite. Thanks to those of you who do.
About InSite