In Store: It's Logical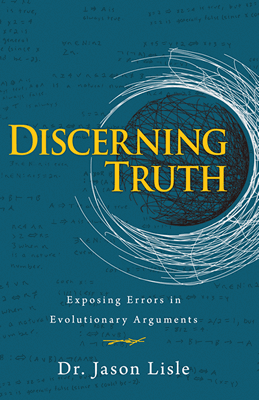 After the success of his recent book, The Ultimate Proof of Creation, and the encouraging feedback from readers who felt better equipped to defend their faith, he decided to write a much-needed follow-up to some of the issues discussed there. We'll let him explain:
Encouraged by this initial feedback, as well as positive responses from talks I had given on logical fallacies and evolution, I decided that a more thorough treatment of the subject was in order. . . . I wanted to produce a resource on logic in apologetics, written in a way that is engaging and memorable, perhaps using anecdotes from my own experiences in apologetics. Moreover, I wanted to spend a considerable amount of space on each fallacy (at least for the more common ones), so that the reader thoroughly understands each example before moving on to the next.
Expanding on and enhancing the Logical Fallacies series he wrote for the Answers in Genesis website, Dr. Lisle has produced a how-to guide for spotting logical fallacies in "real-world" settings, called Discerning Truth. This isn't a textbook, however. It's a tool for understanding the logic behind arguments so that you can refute common claims against Christianity with clarity and compassion.
Discerning Truth contains two chapters filled with fallacious arguments (many quoted straight from evolutionists) that allow you to test your discernment. You'll also find answer keys to explain the faulty logic. The practice is certainly worthwhile because knowing logic and learning to spot logical fallacies in order to defend the faith better is one of the most valuable time investments that a person can make.
Whether in the classroom, the workplace, or the neighborhood, evolutionists agressively criticize Christians for their belief in God and His glorious creation. Are you ready? What will you say when your faith is challenged by those claiming to speak in the name of science or reason?
Question of the Month
My daughter asked a question about the Bible that I wasn't sure how to answer. Can you help?
Yes, we'd love to help. Although we've tried to answer many of the common questions about the Bible and creation on our websites (especially our Kids Answers site for the little ones in your house), kids often see things from a different perspective. And that means they may ask questions that send parents searching.
When you get such a question, the place to start—as with anything—is with Scripture. Beyond that, we've addressed a number of important and common topics in our Contradictions/Errors in the Bible? series—which answers claimed contradictions in the Bible—and in our free online New Answers Books (NAB 1 and NAB 2).
If you still haven't found the answer after doing a site search or in Get Answers (we've covered a surprising range of questions), then we certainly want to give you a hand. Head over to our inquiry form, type in your child's query, and submit. We're always looking for unique and interesting questions.
While we cannot answer all the requests we receive, we certainly strive to do so. In fact, your child's question may end up on our Kids Answers site (for example, see Kids Feedback: Did Adam and Eve Eat Eggs?). After all, it's very likely others will have the same questions too.
(Have a question for InSite? Let us know! Be sure to mention that your question is intended for InSite.)
Did You Know?
Did you know that Why Does God's Creation Include Death and Suffering? is the second most popular article on the Answers in Genesis website? In fact, the number of yearly pageviews has tripled since this online chapter was first published. The most popular article? Dinosaurs and the Bible for the second year in a row (and with more people reading it than ever).
About InSite