The New Way to Get Answers!
For long-time supporters who have used our website over the years, you've probably gotten used to our Get Answers starting page, where we have articles categorized in a number of common categories related to our ministry. We also direct others interested in the origins debate and biblical authority to that page. It's our central point for people to explore our information and get answers!
But while the current version of the page has been reliable, we've been hard at work adding features that will allow users to find articles and other resources even more easily and quickly. These new features include:
Themed categories—We've rearranged our numerous categories by theme, so each of the broader categories listed on the left includes related, more specific sub-categories that drop down after your selection. (In the past, all categories were in one alphabetical list.)
Keywords—We've spent the last year-and-a-half giving each article we run keywords. Now you can tap into that resource, finding just the articles you're looking for.
Filters—You can now cross-filter your results by keyword, publication type, difficulty level, and author, all listed on the right side of your screen. Just click a few of each and see what articles match your filters!
Sorting—Within result lists, you can sort by date (most recent) or popularity.
Get Answers 2.0 is a public beta—that means we're asking you to help us by testing the interface, and telling us how you like it. Also, don't worry, we've kept the original Get Answers page just a click away, if you prefer to use it.
Why delay? Take a look at our new Get Answers 2.0 now! (It's our feature of the month for November as well!)
What's in Store for this Month?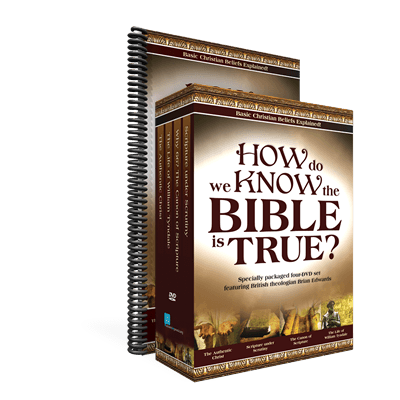 How Do We Know the Bible Is True? is an essential primer of basic Christianity and apologetics that every believer should know. A four-DVD collection, it is excellent both for personal enrichment and small group studies. Packaged in a sturdy library case, each DVD features the acclaimed British theologian and Bible teacher Brian Edwards (one of Ken Ham's favorite apologists).
We're also happy to announce the 2009 Creation Calendar, filled with beautiful images of God's creation taken in the Galápagos Islands.
This striking calendar is only $8.99 each when you order two or more copies—over a 30% savings! Reach out to family, friends, neighbors, and coworkers with this evangelistic gift that points to the Creator and not the ideas of man for life's meaning and purpose.
Question of the Month
C.M. from Cumming, Georgia, writes to say:
Thoroughly enjoyed the "Great Debate." Please keep Jason at the fore-front. I know that you have a lot of effective speakers and I've learned a lot from them all. There is something special about Jason. He is knowledgeable yet humble. Uncompromising with GOD's word yet eager to explain. Brilliant without being patronizing.
We know this isn't a question, but we thought it would be a great opportunity to remind our supporters to revisit our Video On Demand section, where every week we post a new video segment. From heavy-duty science to family-building talks, these videos feature Answers in Genesis and other speakers who always start from God's Word.
And if you do still have burning questions, we're hoping you'll find your answers our new Get Answers 2.0 section—you'll find page after page of Q&A content there and an opportunity to ask questions for yourself.
Did You Know?
AnswersInGenesis.org is closing in on an informal goal: 10 million visits in a single year! This is the closest we've come—as of the end of October, we have had just over 7.5 million visitors in 2008. Try to help us reach our goal of 10 million by the end of the year! Sending out our URL—even as part of your email "signature"—can be a great way to "e-evangelize" and lead people to answers!
About InSite