Meeting "Face to Face"
There's more going on at Answers in Genesis than we could ever put on our website. Nearly every week, we have speakers trekking to churches, special events filling the rooms at our Creation Museum, and testimonies flooding our inboxes. There are stories everywhere, and we love it.
While we might not have a way to share everything that gets us excited on our family of websites and blogs, that doesn't mean we have to keep it to ourselves. In fact, we're already taking those stories and pictures to where over 800 million people are, a place where most of you probably share your lives online. Where? Facebook.
Think of our Facebook pages as a way to keep you updated on your favorite AiG projects and people. Each one gives you a window into what's going on. And thanks to the recent Timeline overhaul, we've got some new ways to keep you informed—and uplifted. Here are some of the pages you may want to "Like" and follow:
And that's just a sample of all you'll find there. If you're already on Facebook, why not make us a part of your social media experience? We'd love to share what's happening, and we hope you'll share our pages and updates with your friends.
[Please note: We do our best to moderate all comments posted on our Facebook pages (and the new design makes this easier). However, parents should always visit Facebook and other social media pages with their children. If you notice anything, be sure to flag it, and we'll take it from there. Also, our Facebook pages are not debate forums. We love healthy discussions, but our pages are not the place for comment wars. Please be respectful and loving.]
The Ark is Coming
Recently, the Ark Encounter finalized the purchase of the last and largest piece of land needed for the project. That means the construction of a full-sized Noah's Ark is on course. We've still got a few VIP boarding passes left for families and individuals. So, help us set sail by joining in.
In Store: Answers for Teens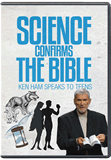 Take over 30 years of experience speaking to audiences about biblical authority. Throw in a lifetime of learning about God's creation and science. Combine with an ever-growing passion to show teens that the Bible really does have the answers. And that just about sums up the new DVD Science Confirms the Bible: Ken Ham Speaks to Teens.
This fast-paced, illustrated presentation tackles some of the biggest questions that today's teens have (the ones they've asked Ken as he's traveled around the world). The style, humor, and engaging delivery pack a real punch because teens get the answers they need to deal with the skeptical world they live in. Plus, it's fun.
Ken answers over a dozen "hot-topic" issues with the humor and intensity that have made this Australian-born educator one of the most-requested Christian speakers in America. He shows again and again that science really does confirm the Bible.
Teens learn about DNA as evidence for the infinite God, the basics of genetics and natural selection, biblical kinds, the origin of the so-called "races," the truth about Cain's wife, evidence for the worldwide Flood, the actual date of the Ice Age, literal vs. figurative creation days, the origin of death, dating methods, and more.
If anything, the years have just made Ken more excited than ever to share an important message: "The Bible is true, and science confirms it." With the help of Science Confirms the Bible, you and your teens will be better equipped to share that message, too.
Question of the Month
Do you ever post Spanish videos in your Video on Demand section?
First of all, if you're not familiar with the Video on Demand (VOD) section of our site. You really should be. We've added dozens of free videos over the last few years on everything from archaeology to zoology. If you've got questions, chances are good that we have video answers for you. VOD is also a good place to find clips to share with a small group or class.
Most of the videos in VOD are in English as of right now. But thanks to the efforts of Answers Worldwide (our missionary arm), we've been ramping up the global reach of AiG. We've already put together mini-sites in several different languages.
But we didn't stop there—we also want to make free videos available to people around the world. In particular, we recently took the wraps off a Spanish section. While we don't have as many videos as on the English site—yet—we have already loaded up over 20 segments to answer your questions.
Be sure to share this new Spanish VOD with friends and family members who need to see these important answers.
(Have a question for InSite? Let us know! Be sure to mention that your question is intended for InSite.)
Did You Know?
Did you know that our Spanish-language site, Respuestas en Génesis, gets thousands of pageviews each month? In fact, it's the most popular of our Answers Worldwide mini-sites. If you know someone who speaks Spanish as their primary language (or a missionary to a Spanish-speaking country), be sure to tell them about our Spanish resources.
About InSite