Our world-class attractions, the Ark Encounter and Creation Museum, are "evolving"—but not in the sense of chance, random processes. It's through lots of intelligent design!
Our designers, fabricators, artists, AV techs, and others are creating wonderful upgrades to the popular Creation Museum and continuing the rapid expansion at the world-renowned Ark Encounter.
The Special Effects Theater at the Creation Museum has been a favorite, as God has used it for many thousands of visitors. After 11 years, it is being totally refurbished to become a 4D theater.
What Is a 4D Upgrade?
A 4D theater is the combination of 3D projection with physical effects occurring within the theater, synchronized with the 3D film. Our cutting-edge 3D projection system will synchronize with rumbling seats, short air blasts, back pokes, wind blows, and strobes.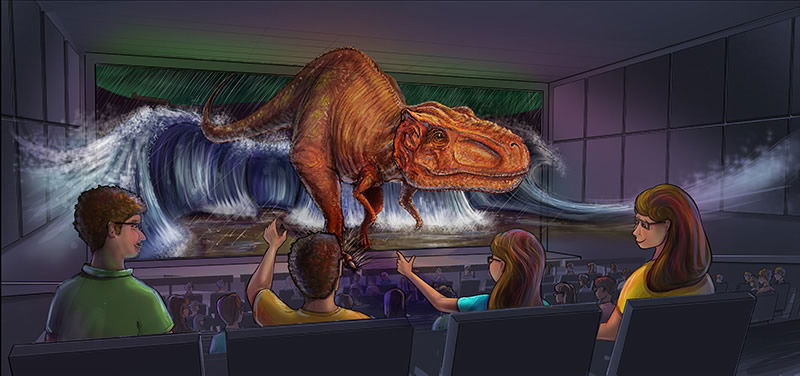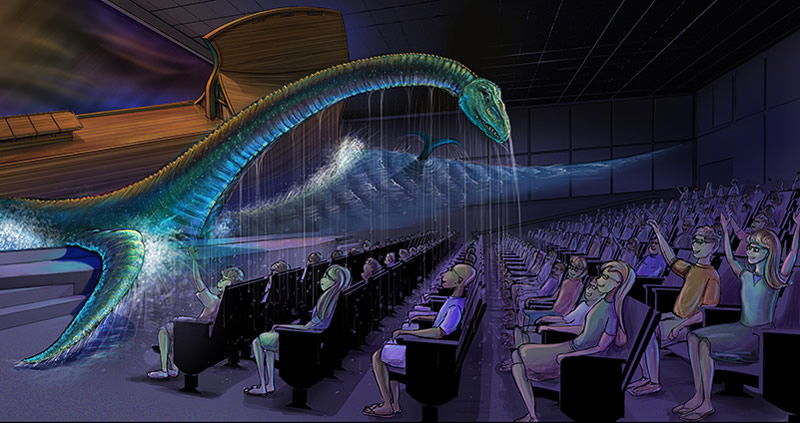 At strategic moments within our films, we will be able to immerse the audience in the experience to help share biblical messages as we simulate exciting storms and lightning. And we will enhance climactic moments with a seat rumble or by simply adding a bit of fun with a burst of air and a surprising poke in the back—all from the innovative and comfortable new specialty seats.
Our new projector is like the ones used in high-tech movie theaters, but it's a notch above industry standard: it's a Christie CP4230. The company is the world leader in 4K DLP Digital Cinema projection, with a remarkable 34,000 lumens.
When this theater re-opens this summer, we will be showing a startling 20-minute 3D film from the movie Genesis: Paradise Lost. Theatergoers will put on special 3D glasses and watch Genesis chapter 1 come to life in 3D!
For those who haven't seen our Men in White special effects program (shown for 11 years in our museum theater), we will still feature that popular, fun program—also with special effects.
In addition to Genesis: Paradise Lost, our high-tech theater will show a powerful 20-minute movie—with many special effects—on Noah's flood. Our creative team is now working on a film that will depict life before the flood, during the flood (on the ark), and after the global event. This new special effects show about Noah's flood will come out later this year.

Other Museum Upgrades
Due to the increased number of Creation Museum visitors, we have added extra restrooms a third of the way through the museum. Because museum attendance has doubled since the Ark Encounter's opening, we have also widened passageways and doors to accommodate our guests.
Our talented designers are also creating many new exhibits for the first part of the Creation Museum, to be installed in early 2019.
Ark Expansion
At the Ark Encounter, 45 minutes from the museum, visitors will now enter the massive ship via a new Monument Walk. As guests walk through this area toward the life-size ark, they will see six large monument stones that have Genesis chapters 1–6 displayed in hieroglyphs. Three large bird enclosures (with live birds) are also being installed.
The Village Market (on the west side of the Ark Encounter) has added some food and shopping experiences. In fact, a talented artist from Mexico can often be seen creating one-of-a-kind handmade ark items. Also, our massive 1,500-seat restaurant has been upgraded, with one of the best buffets you will ever experience! (A staff member jokes that the food is of cruise-line quality, but without the need for seasick pills.)
Zoo Expansion
Through the rest of the year, we will be expanding our popular Ararat Ridge Zoo behind the ark. We have already added Rainbow Gardens, which features pavilions and tables at a scenic area where people can relax and enjoy food and refreshments.
Toward the end of the year, we will open our 2,500-seat multipurpose auditorium, the Answers Center. Underneath will be a 36,000-square-foot basement for workshops and meeting rooms.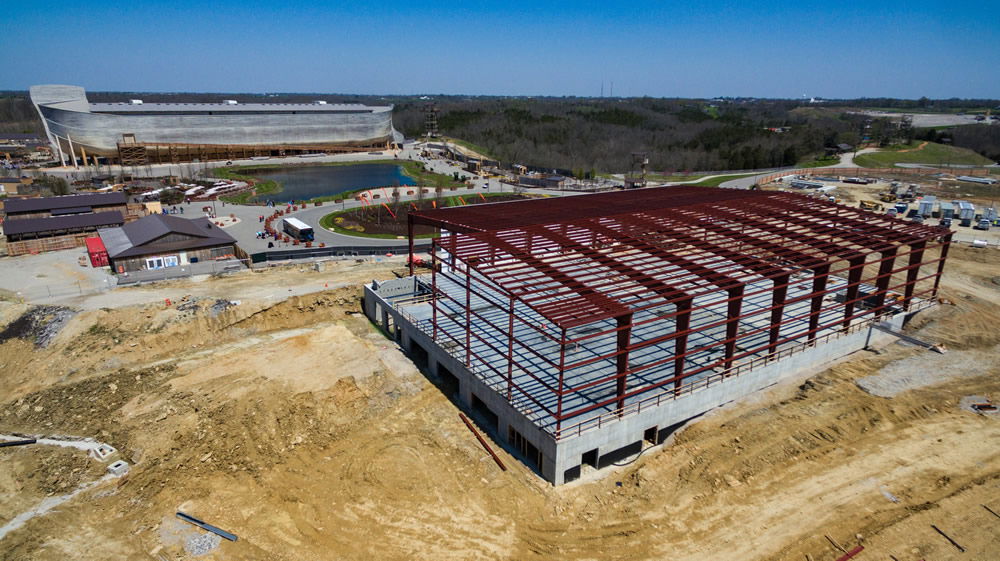 Since opening in 2016, many enhancements have been made inside the ark to better serve and excite our guests about the truth of God's Word.
Each day, thousands of visitors from across the USA and around the world pour into these two exceptional Christian attractions. Expanding and upgrading is a never-ending process! Even if you've already visited, come back and tour the Ark Encounter and the Creation Museum again to experience what's new and exciting!
Make your plans to visit Northern Kentucky (near Cincinnati) by going to CreationMuseum.org and ArkEncounter.com. At those sites you can also find out when the new enhancements, such as the 4D theater at the museum and the Answers Center at the Ark Encounter, will open.