A new full-scale Ark, being built in Northern Kentucky (35 miles south of Cincinnati), has run into vocal opposition even before the first board has been cut.
Presiding at a press conference last December to announce the Ark (the centerpiece of the huge Ark Encounter history-based attraction) was Kentucky Governor Steve Beshear. In his speech he indicated that owners of an investment group would be applying for sales tax incentives. A second after he opened the floor for questions, someone blurted out: "Isn't this blatantly unconstitutional?"
That loaded question did not catch the governor off guard. His legal team had done its research and determined that the attraction's owners—the Ark Encounter, a for-profit LLC—does qualify for sales tax incentives under Kentucky's Development Act.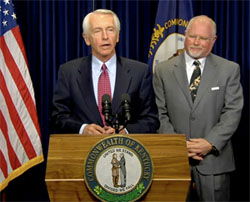 Controversy erupted after Kentucky's governor, Steve Beshear (above), announced state plans to offer tax incentives for a full-scale Ark being built in Northern Kentucky.
Though it is owned by the for-profit LLC, the attraction will be operated by Answers in Genesis. AiG's participation in the Ark Encounter drew harsh criticism against the governor for supposedly violating the establishment clause of the First Amendment. The fact that some sales tax collected would be rebated to the Ark Encounter LLC caused an uproar—some reporters claimed (falsely) that money would be taken from the state budget and away from needed state programs.
In reality the state would be rebating some of the sales tax because it expects to earn a lot more money through other means. As Gov. Beshear pointed out, an estimated 1.6 million visitors will come to the Ark Encounter the first year, supporting perhaps 14,000 jobs at both the attraction and nearby businesses, and adding tens of millions of dollars to state and local government coffers each year.
At press time, the LLC and AiG are proceeding against all opposition. They have already ordered the massive lumber beams needed for the 500-foot-long (152 m), full-scale Ark.