At each teaching seminar, AiG relies on locally recruited volunteers to help in a variety of vital tasks. In fact, at major conferences, sometimes that means finding up to thirty volunteers to assist (who normally show up the day before the event for a training session).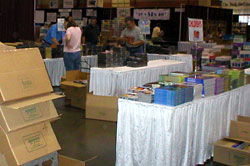 Here is an account of the volunteer conference work of the Garcia family of central Ohio, USA. The Garcias (Ignacio, Janis and twin daughters Sarah and Elizabeth) have already spent several hundred hours as volunteers for AiG–USA this year—you may recall our web article on their ragtime quilt project to benefit the Creation Museum. When they had discovered that Ken Ham, AiG–USA president, was to keynote the large CHEO (Christian Home Educators of Ohio) conference in Columbus, all four of them saw another opportunity to become involved in a ministry that God had used in their family's life.
Here is Janis's description of a few days in the life of an AiG volunteer while working at this large conference last month.
"Do you have any books that teach evolution?"

Asked only two minutes before closing on the first night of a three-day conference, the man agreed to return the next morning for the answer.

This may have been the largest audience ever at a CHEO keynote address, and the number of non-homeschoolers in attendance was a surprise. They had particularly come to hear Ken Ham, the keynote speaker at this year's conference.

We volunteered to work at the AiG booth (my husband and girls at the registers, while I answered questions at the divs). The more-than-4,000 attendees must have all come through the AiG booth, it seemed! (Many of them more than once.) They all wanted materials that would enable them to speak like Ken (well, maybe sans Australian accent).

We learned a lot that weekend …

I learned that there is a hunger for the AiG message that borders on starvation. Dozens and dozens of times I was asked the same two questions: "What can we use to raise our children from the beginning to think like this [i.e. biblically]? What we just heard is an entirely new way of thinking for us!" and second: "I was raised as a Christian to believe that evolution is all right, as long as you believe that God created something. Now I find out it was a lie. Help! What do you have that will help me put on my 'new pair of glasses"?" The most popular answer I gave was: get the AiG Library Pack, with something for everyone!

I discovered that many Christian fathers who dropped by the booth were not a part of their children's education. Once they realized that the AiG booth had books actually designed for their use, however, their enthusiasm was infectious. Dinosaurs of Eden and A is for Adam for young people were the answers here.

I learned that many Christian mothers are frantic in their search for trustworthy teaching materials. Two mothers said that they needed something for themselves to study. They wanted to use AiG materials in their homes but needed to understand this "new way of thinking" before they could teach it to their children.

Well, The 7 C's of History curriculum was the answer here, and we were sold out before the middle of the second day! Many were purchased as a family devotional guide (often to be led by the fathers, we were told), with one woman remarking that the cartoons were "just perfect for my teenagers, too." One mom came up and said that she had been homeschooling for a number of years and had begun to feel like they were in a rut. The AiG materials had "rejuvenated" her, she said, and she could "hardly wait to get home" to her family.

I learned that there are people who want to see the truth taught, even if it means buying every AiG book and video that the church library can hold! How many people told me they were buying them for their pastors or Sunday school teachers, hoping that the message would take root and grow! They came with lists of what they currently owned and asked for something to "round out" their collection. The answer they chose most was the recently translated classic history book by Archbishop Ussher, The Annals of the World.

What was the biggest thing that I learned? I learned that the dedicated people at AiG impact more lives in a mighty way than anyone knows! We feel privileged to have been able to share in a very small part of that work. May the Lord cause the harvest to be great.

Oh, yes … our first young man. He explained that he merely wanted his children to grow up to know more about evolution than the evolutionists, so that they would never fall for the lie. He said that "most Christian books just ignore evolution" and he had expected AiG to do the same. This family ended up buying most of the materials available at the booth and made a sizeable donation to the museum building fund. Praise the Lord for His provision in these materials that will enable a young father to become even stronger in his headship. What a witness to the importance of AiG's presence and God's willingness to use them to touch one generation after another.