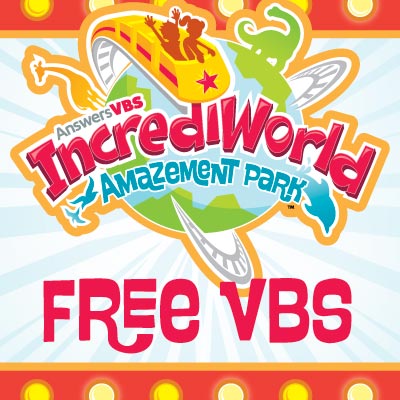 We've adapted IncrediWorld so families can do VBS at home with their children or even host a small backyard VBS for neighbors (while following all of their state social distancing rules, of course). It's a fun way to explore God's creation as you discover, with your children, how long it took God to create some of the incredible creatures he made (including dinosaurs!), and why we need a Savior, the Lord Jesus Christ.
The free download includes the simplified VBS guide, resources, drama videos, and music videos for IncrediWorld. It's everything you need to host a fun at-home week of VBS this summer. (You can also find the drama and music videos on our Answers VBS YouTube channel and Answers.tv, our video-streaming subscription platform.) We also have an MP3 bundle of the music available for only $4.99 in our online store.
Download the IncrediWorld VBS at AnswersVBS.com/free.
A big "thank you" to the AiG supporter who donated the funds so we could produce and provide this tool for you and your family.
Thanks for stopping by and thanks for praying,
Ken
This item was written with the assistance of AiG's research team.