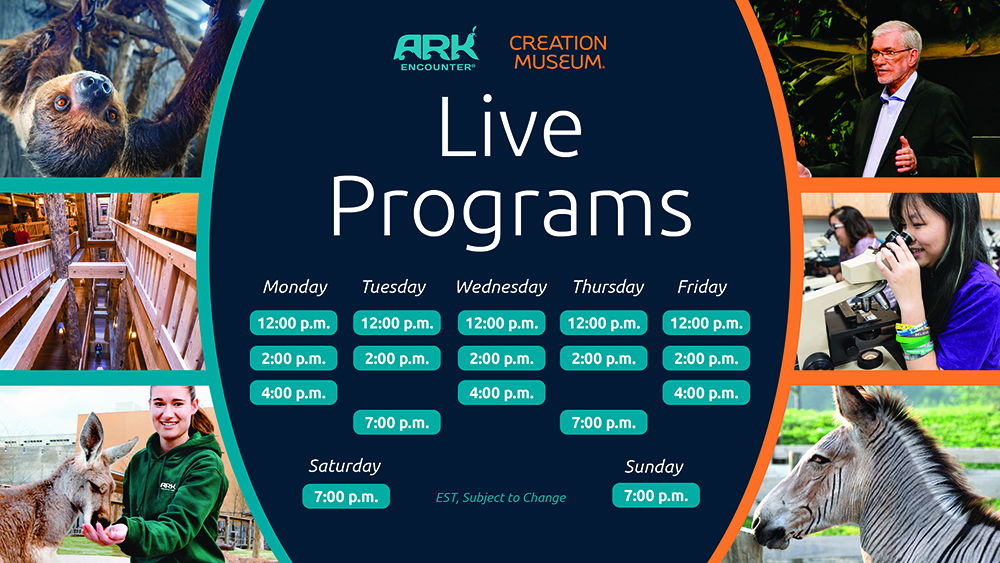 Starting this coming week (Monday, May 4), we're airing seven different programs through Facebook and YouTube. You won't want to miss any of these exciting, family-friendly programs:
Answers News. This biblical worldview commentary on science and culture news items airs now on two days—Mondays and Wednesdays at 2 pm ET.
New! Unlocking Science. This is a live program where Mr. Roger Patterson will explore amazing things in God's creation (and blow something up every once in a while), all while interacting with live comments from the viewing audience. It airs every Tuesday and Thursday at 2 pm ET. (This program takes the place of the current live science experiments broadcast in the mornings.)
Hands-on Science. This will take a concept from Unlocking Science and show kids and their parents how to build a project or conduct an experiment at home with household items. It airs Friday at 2 pm ET.
New! Hike and Seek with Peter Schriemer. Meet our zoo animals and discover their fascinating design with Peter Schriemer, a wildlife filmmaker who is known for his nature programs and is now a member of the AiG family. (Peter will also have exclusive programming on Answers.tv; more on that below.) You can catch this program every Monday, Wednesday, and Friday at 4 pm ET.
Behind-the-Scenes with Ken Ham. Get sneak peeks and go behind-the-scenes with me and other AiG staff members, Tuesday and Thursday at 7 pm ET.
Live teaching presentations. Hear presentations on a variety of topics from dynamic AiG (and guest) speakers, Monday–Friday at 12 pm ET.
A New History of the Human Race. Brand-new research from Dr. Nathaniel Jeanson is completely rewriting the story of humanity. And his research is only possible because he starts with the history in God's Word. Hear the next installment every Saturday and Sunday at 7 pm ET. Past episodes are available on Answers.tv (again, more on that below) and the Answers in Genesis YouTube channel.
But sure to "like" my Facebook page or subscribe to the Answers in Genesis YouTube channel so you don't miss any of the videos.
A Better Way to Watch
But there's a better way to watch than on Facebook or YouTube. These streaming platforms can often cut in and out, or have a poor quality. Or you may miss a notification and not even know that we streamed a video. (Facebook only notifies a small fraction of our followers that we've gone live, and YouTube notifications are often late, if they happen at all.) For incredible quality, exclusive content, and access to all of our video content (that's several hundred videos plus many more coming!), I encourage you to subscribe to Answers.tv.
We're excited about Answers.tv and know you'll love it.
Answers.tv is our brand-new streaming platform. From this one platform, you have access to all of our video content, all of our livestreams, and exclusives shows and content that are coming soon. Answers.tv is only $4.99 a month, or $39.99 a year (that's just over $3 a month!), and can be used on any device, anywhere in the world. Soon we will have our own apps as well!
We're excited about Answers.tv and know you'll love it. Start your free trial today at Answers.tv.
Thanks for stopping by and thanks for praying,
Ken
This item was written with the assistance of AiG's research team.