All of us need equipping on these timely topics so we can teach our children how to deal with these issues that permeate our culture.
Some of the topics that will be discussed in this edition of Answers include:
Gender in Our Culture: Cutting Through the Chaos. What should believers do when we disagree with our neighbors about the very nature of humanity?
The Biology of Gender. With 112 so-called gender options, our culture is in desperate need of a basic biology lesson.
Same-Sex Attraction: If It Feels Right, Is It? Shouldn't we value the sincere feelings of others rather than condemning them?
Sexuality: Broken and Redeemed. The world and Scripture have two very different perspectives on sex.
"The Talk": An Interview with Heidi St. John. Heidi St. John, "The Busy Mom," sits down with the publisher of Answers magazine to share her advice on how to talk to kids about sex.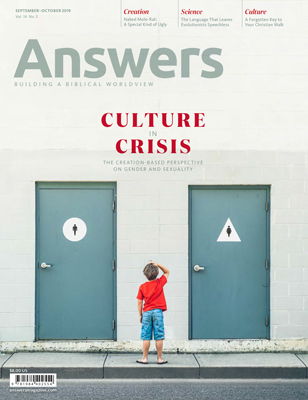 In addition to these sensitive but very timely topics, you'll find articles about the remarkable mole rat, what the rocks are really telling us, how we can know the Bible is true, bee swarms, the "tree ring" circus, and so much more. And, as always, there's a mini pull-out magazine for kids. In this issue, they'll learn about the reptilian monsters God created to fill the earth, sky, and sea and how to understand these incredible creatures through the lens of biblical history.
Now, if you are parents of young children, you may want to read through this issue before passing it along, but the content is tasteful. And, at your discretion, I encourage you to share it with your older children—these are the issues our young people are grappling with today, and we must teach them how to think biblically. After all, the world is doing everything it can to lead them down a path of sinful thinking and affirmation. And, yes, some of these topics may seem awkward to talk about, but you should be the one filling your children's minds with truth, not allowing the world to lead them astray. So, consider reading and talking through this issue together. It's a great conversation starter!
I encourage you to subscribe to Answers magazine today at AnswersMagazine.com. Or consider subscribing for a year of PureFlix.com, the leading faith and family video streaming service, which includes a year of Answers (six issues) at no additional cost. This is part of a special offer—it's a great deal! Learn more at AnswersMagazine.com/PureFlix.
Thanks for stopping by and thanks for praying,
Ken
This item was written with the assistance of AiG's research team.