Dennis Rainey and his wife Barbara have six children and are the co-founders of FamilyLife, a ministry dedicated to providing hope and help for marriages and families. Dennis did a wonderful job sharing Christ-centered parenting tools at our conference last year, and I am excited these talks are now available on DVD for those who weren't able to make it out to the conference to enjoy.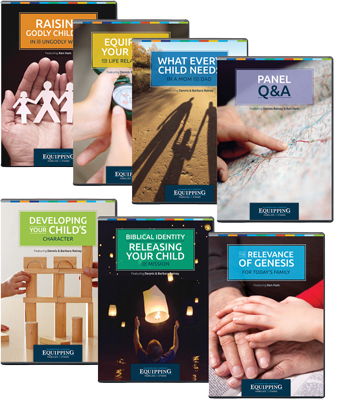 This seven-part set, filmed live at our conference last year, features a Q&A and six one-hour talks. The first four feature Dennis, the last two are mine:
Biblical Identity and Releasing Your Child for Mission
Developing Your Child's Character
Equipping Your Child for Life Relationships
What Every Child Needs in a Mom and Dad
Raising Godly Children in an Ungodly World
The Relevance of Genesis for Today's Family
This conference DVD set will help you dive into how you can "train up a child in the way he should go" (Proverbs 22:6) and "bring them up in the discipline and instruction of the Lord" (Ephesians 6:4). It's practical parenting advice from God's Word, using biblical principles in a time when the world tells us to raise our children in ways and with thinking utterly contrary to God's Word. This set will help anchor your parenting around God's Word.
Whether you're looking for a summer discussion or simply want to discover more about parenting from God's Word, I encourage you to add this practical DVD set to your teaching DVD library, go through it yourself (or give it to your children who are now parenting), and share it with others.
Order the Equipping Families to Stand Conference 7 DVD Set at AnswersBookstore.com.
Thanks for stopping by and thanks for praying,
Ken
This item was written with the assistance of AiG's research team.