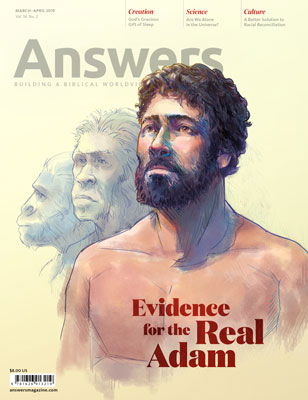 Our magazine, which comes out six times a year (in both print and digital format), is designed to challenge and equip you to think biblically about what's happening in our western culture. Each issue is packed with relevant articles that speak to the issues of our day and are fascinating to read. If you are not already a subscriber, I encourage you to consider signing up to receive this award-winning magazine—you won't be disappointed.
In addition to the question of a historical Adam, the current issue features articles about the evidence from sixty years of research into ETs, what really separates us in the context of "race," the incredible design of termites, and the fine details preserved in fossils that mystify evolutionists but confirm what the Bible teaches about history.
You'll also read about:
God's gift of sleep. When you're drifting off to dreamland, God unwraps one of his greatest presents.
How should Christians vote? It's not even close to election time. But how can our vote count every day of the year?
How does geology affect spiritual things? You can't separate the truth about God's work in the physical world from spiritual truths without drastic consequences. They're too closely connected.
The hidden dangers of Christian textbooks. Homeschool curricula and Christian colleges don't always live up to their name. You must look below the surface.
And more!
Kids—in their own mini pull-out magazine—will discover how we got here. Some people believe we're the product of millions of years of evolution. But God's Word gives a very different perspective. Kids will learn why the Bible's history is so much better . . . and absolutely true.
I encourage you to subscribe to this wonderful family magazine at AnswersMagazine.com so you won't miss another faith-affirming and fascinating issue.
Thanks for stopping by and thanks for praying,
Ken
This item was written with the assistance of AiG's research team.