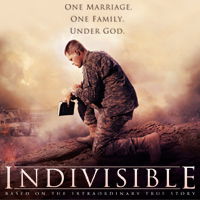 Catch Indivisible in movie theaters on October 26, 2018!
Indivisible is based on real-life events and recounts the inspiring true story of a US army chaplain's 15-month deployment to Iraq and what he experienced there as he tried to encourage the men and women he was called to serve. Upon returning home to his wife and family, he's a different man—but I don't want to give away the ending! This movie highlights the strain such circumstances can bring to marriage, and I will say I believe you will be encouraged by this portrayal of the redemption that Christ brings.
Even though this story is about a military family, the story is relatable for all marriages. I highly encourage you to go and see this film—use this film as an opportunity for a date night or spending time with your teens.
The film is rated PG-13, as some scenes may be frightening or too intense for younger viewers, but older children, teens, and adults will enjoy this story of hope, healing, and serving the Lord wherever he has placed us.
Encourage your family and friends to view movies like Indivisible that reflect what God says:
Finally, brothers, whatever is true, whatever is honorable, whatever is just, whatever is pure, whatever is lovely, whatever is commendable, if there is any excellence, if there is anything worthy of praise, think about these things (Philippians 4:8).
Find a theater near you, and get tickets, at IndivisibleMovie.com.
Thanks for stopping by and thanks for praying,
Ken
This item was written with the assistance of AiG's research team.