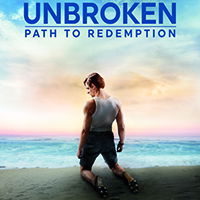 Catch Unbroken: Path to Redemption in movie theaters on September 14, 2018!
Zamperini returned home at the end of WWII a hero and still-renowned Olympic athlete (from the 1936 Berlin Olympic Games). But he soon began to suffer from what we now know as post-traumatic stress disorder, often tormented by nightmares when he closed his eyes. Unbroken, the 2014 film, completely neglects this part of his story, ending instead when he returns home.
But the rest of Zamperini's remarkable journey is dramatically told in Unbroken: Path To Redemption, a film coming to theaters September 14, 2018, from Pure Flix movie studios (along with Universal 1440 Entertainment and The WTA Group), associated with the family-friendly video-streaming service that carries dozens of AiG videos. I think Christians will find this stirring film very encouraging!
I don't want to give away the ending, but I will say that Christ and his redeeming work are glorified through this film, as they were through the real life of Zamperini after WWII. While young children might be upset by flashbacks to Zamperini's time at the prison-of-war camp (these scenes are rather tame by Hollywood standards and nothing graphic is shown), this is a great movie to consider going to see with older children (the film has a PG–13 rating). It powerfully shows the emptiness of life without Christ and the hope and redemption he brings. I encourage you see this film in theaters, especially if you've seen the 2014 film, which leaves off the end of his story.
Learn more, and find a theater near you, at UnbrokenFilm.com. When the film releases, we'll post a movie review.
Thanks for stopping by and thanks for praying,
Ken
This item was written with the assistance of AiG's research team.