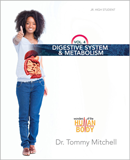 The Digestive System and Metabolism is the fourth book in Dr. Tommy Mitchell's Wonders of the Human Body curriculum series. This series is an in-depth look at the wonderful design in our bodies and is a great resource to help middle schoolers and others understand the human body in light of God's creation.
My good friend Dr. Mitchell was a practicing physician for 20 years before joining us at Answers in Genesis, so he's very knowledgeable about the human body. In The Digestive System and Metabolism, he describes the digestive system in a clear, straightforward manner (with lots of pictures and illustrations) that is easy to read and understand. This resource will equip your students to understand how their bodies function and will inspire them to give glory to God for his creation.
You can order this brand-new resource or all four volumes in the series from our online store.
Back-to-School Sale
With school starting soon across America and other western nations, Answers in Genesis is thrilled to offer many of our resources at a discount, just in time for school. We have discounts on many faith-building educational resources, including
And many more excellent resources.
These faith-affirming resources will help equip you and your family to answer the skeptical questions of our day. See our full curricula sale, and use promo code 1808DD until September 30, 2018, to save at least 10% on select curricula.
Thanks for stopping by and thanks for praying,
Ken
This item was written with the assistance of AiG's research team.