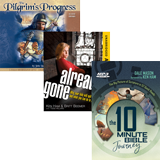 We're offering a special Family Audiobook Bundle MP3 CD or MP3 download for just $39.99 (a $62.99 value), including The Pilgrim's Progress, 10 Minute Bible Journey, and Already Gone.
The Pilgrim's Progress, a dramatized version of the classic book by John Bunyan, will encourage your father or husband in his walk with the Lord as it has millions of other Christians throughout history.
The 10 Minute Bible Journey, by AiG VP Dale Mason, will give a "big picture" view of Scripture that will help the dad in your life to understand the overarching message of the Bible and put events in their chronological order. This book is a powerful resource to increase Bible literacy, and the audiobook is a convenient way of learning biblical truth on the road.
Already Gone, which I coauthored, powerfully shows why two-thirds of young people are walking away from the church by the time they reach college age and what we can do about it. As the ones who hold the primary role in their children's spiritual instruction, parents need to know this information so they can effectively reach and teach their children.
And, when you order this set, you'll receive the free audiobook download of my book Raising Godly Children in an Ungodly World. It will equip you with strategies to raise children who know and love God's Word in our increasingly secular age.
Audiobooks are perfect to listen to while traveling, working outdoors, or exercising, and they make a great Father's Day gift. I encourage you to consider ordering this special bundle for your dad or husband. You can learn more at AnswersBookstore.com.
And we're also offering half-price admission to the Ark Encounter and Creation Museum here in Northern Kentucky to all fathers (whether by birth, adoption, fostering, or wife's pregnancy) on Father's Day, June 17, 2018. We hope many fathers will come and visit, either by themselves, with a group of other fathers, or with their families. Half-price tickets and a trip to our Cincinnati area to see these two world-class, Christian themed attractions will make a great Father's Day present for any dad. They are sure to be encouraged and equipped with biblical answers to the questions of our day.
Plan your visit at ArkEncounter.com and CreationMuseum.org.
Thanks for stopping by and thanks for praying,
Ken
This item was written with the assistance of AiG's research team.