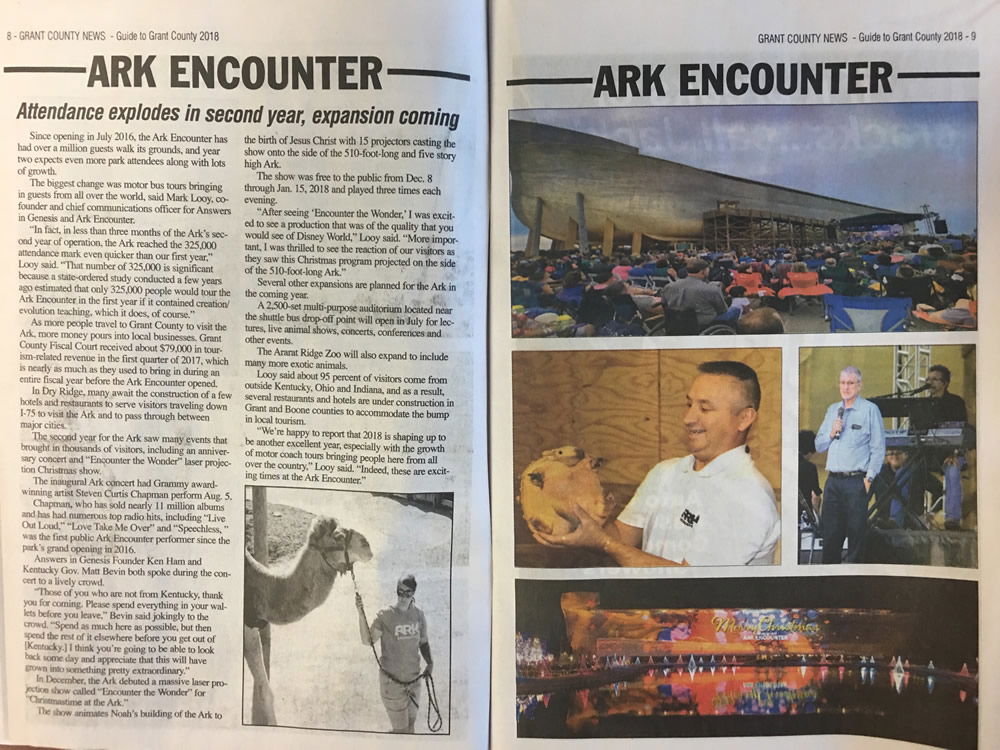 They write,
Grant County has already seen several new businesses open in the community since the Ark's opening. More restaurants, hotels and entertainment venues are expected to follow. . . .

As more people travel to Grant County to visit the Ark, more money pours into local businesses. Grant County Fiscal Court [similar to county commissioners] received about $79,000 in tourism-related revenue in the first quarter of 2017, which is nearly as much as they used to bring in during an entire fiscal year before the Ark Encounter opened.

In Dry Ridge, many await the construction of a few hotels and restaurants to serve visitors traveling down I-75 to visit the Ark and to pass through between major cities.
Business is booming in the areas around the Ark Encounter thanks to this new world-class attraction. Our regional tourism office acknowledged the impact last year of both the Ark and our sister attraction, the Creation Museum, as do business leaders at various civic events held in the region.
We're thrilled to see that the Ark is having a huge economic impact, but even more excited that it's having a huge spiritual impact on those who come to visit. We don't just want to attract tourists—we want to share the good news of the gospel with everyone!
Plan your visit at ArkEncounter.com.
Thanks for stopping by and thanks for praying,
Ken
This item was written with the assistance of AiG's research team.