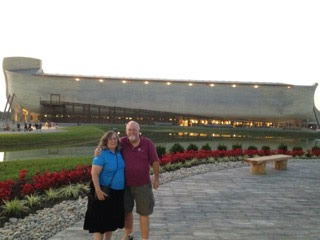 Several years ago after the Creation Museum had just opened, he and his wife, Eileen, would travel all the way from Boston to spend weeks at a time at the museum as volunteers. With a background in geology, Jim was of great help to AiG's geologist, Dr. Snelling, and he also assisted Stephanie McDorman in our collections room. Eventually Jim and Eileen moved here permanently as volunteers and were involved in many museum activities. Eileen is often seen volunteering in the museum back offices, preparing craft materials for the Answers for Kids workshops. Jim volunteered regularly in guest services and helped at most of the Stargazers events.
Right before we played the laser projection show on the side of the Ark, Jim saw me in Emzara's Restaurant. He introduced his son Christian to me and told me how excited he was that he had taken his son, for the first time, through the Creation Museum the day before and then to the Ark. Jim told me how much he was looking forward to seeing the laser projection show. After watching the show, he went back to Emzara's. Then a few minutes later, as I began a Facebook live segment to promote the laser video program, I saw paramedics rushing to Emzara's.
I was so privileged to know Jim—he was such a gentle, dedicated soul. We will miss him. What a reminder of the brevity of life and how vital it is that each one of us is, as Jim was, ready to meet our Creator at any time.
Jim and Eileen have two sons, Chris (or Christian), who had been spending a few days here with his parents, and Kenny. Please pray for them and Eileen during this loss.
Services are later this week.
Thanks for stopping by and thanks for praying,
Ken
This item was written with the assistance of AiG's research team.