Kids love music. And one way they can learn biblical truth is by singing and jumping along to catchy music with a biblical message. Well, my good friend Buddy Davis, a talented musician (and dinosaur-model builder for our museum), has produced several CDs packed with fun and biblically sound music. These are songs your kids will want to sing again and again, and they probably won't realize they are learning important truths about God's Word while they are having fun! Many of these songs are based on the creation apologetics teaching we give in our public talks and resources.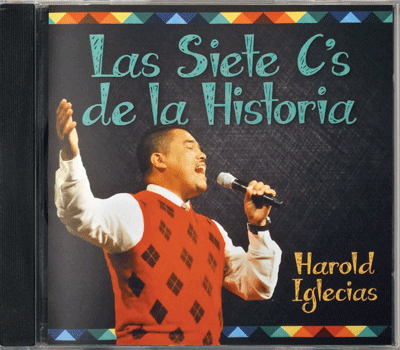 Well, the lyrics of ten of Buddy's most popular songs have now been translated into Spanish! Talented musician Harold Iglecias performs these classics in an all-new Latin style. Songs like "D de Dinosaurio" (D is for Dinosaur), "Las Siete C's de la Historia," (The 7 C's of History), and "Behemot es un Dinosaurio" (Behemoth was a Dinosaur) are sure to get your kids' toes tapping and their hearts singing along.
Our Spanish outreach has been growing, and we're excited to add this new resource to our store. Some of our other programs include a growing outreach to Central and South America, Día Latino (Latin Day), which will be held at the Ark Encounter this year, an increasing number of Spanish-language books and DVDs, and a Spanish website with a growing number of articles to equip Spanish speakers to defend their faith and find answers to their questions.
You can order the new Las Siete C's de la Historia from our store. If you have Spanish-speaking friends, be sure to let them know about this new resource. It would also make a great gift for any occasion.
Thanks for stopping by and thanks for praying,
Ken
This item was written with the assistance of AiG's research team.