In the New Testament, the Apostle Paul says, "I have become all things to all men, that I might by all means save some" (1 Corinthians 9:22). He knew that as long as he wasn't contradicting God's Word or engaging in sinful behavior, he could use anything as a way to spread the gospel of Jesus Christ and the message of His Word. Well, in a recent interview, I was able to use the TV show Doctor Who and the Australian delicacy Vegemite to spread the message of biblical authority!
I was recently interviewed through Skype on Apologia TV, a faith-equipping television program. We had a great time talking about biblical authority and the upcoming Ark Encounter. I shared about what a guest will experience at the Ark Encounter, as well as the reason why we're building a life-size Noah's Ark. The interviewer saw my model Dalek behind me and realized I must watch the science-fiction program Doctor Who. I was then able to use Doctor Who (one of my favorite British TV programs) and the delicious Australian spread Vegemite (which most Americans don't like!) to make an important point about the nature of evolution and the importance of teaching our children the things of God from a young age.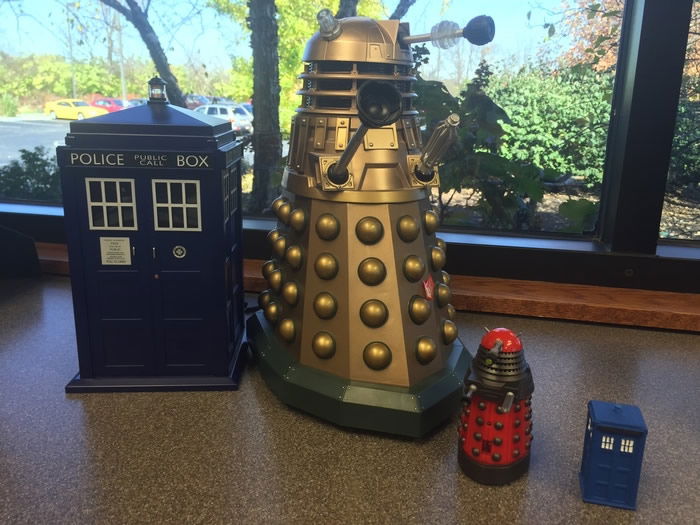 I got to share on the program that I watched Doctor Who when I was a young boy growing up in Australia, and that the reason I like science fiction so much is because I talk about evolution a lot, which means I talk about fiction an awful lot! I got a laugh out of the Apologia hosts with that one. But you know what else? We don't have time machines in the real world like the Doctor's Tardis, but I look on the Bible like a sort of time machine. I do wish sometimes I could just go back in history to see all these things that happened at the time of the world's creation, but God's given us His own time machine, the Bible, and we can read the eyewitness account of what happened in the beginning. And where is that beginning recorded? The book of Genesis. You can see what else I talked about in the video. It was a fun interview—but at the same time we talked about serious biblical issues.
Then the hosts teased me about not having mentioned Vegemite during the interview yet. So I asked, "Did you know that Vegemite was mentioned in the Bible?" You'll have to see what I meant by that joke when you watch the video.
I think you'll enjoy this engaging and humorous interview. I encourage you to watch and share it—I believe you'll really catch a vision for what the Ark is going to be, too. You can watch the full episode on YouTube or below.
And be sure to stay tuned to our website because on November 12th we're announcing the opening date for the full-size Noah's Ark! Soon you'll be able to start planning your own family trip down to the Creation Museum and Ark Encounter. And please continue praying for us as construction continues and as we anticipate our opening next year.
Thanks for stopping by and thanks for praying,
Ken
This item was written with the assistance of AiG's research team.