Last night several AiG staff and some of my family attended the funeral service for our great friend Dick Sauer who passed away last week in Ohio at age 92. Dick started volunteering for AiG about 20 years ago just after his dear wife Marlene started her stint in 1994 as a volunteer. He had a career in a Fortune 500 company but most of all he enjoyed being a Bible teacher and evangelist. Dick served in the Army during WWII in the Pacific (his brother died in combat in N. Africa) and will be buried in a military cemetery in Kentucky (very close to our Ark Encounter site).
Here is a photo taken earlier this year where I'm showing Dick and Marlene some photos of the Ark's construction and a video of it. Dick was frail at the time and could not make it to the Ark site to see the progress, so I went to his house one evening and gave both of them an update. By the way, visitors to their home would see that his study that was full of books and audio cassettes (yes, he was still using that technology!) with commentaries and sermons on God's Word—he loved the Bible and AiG's biblical authority message.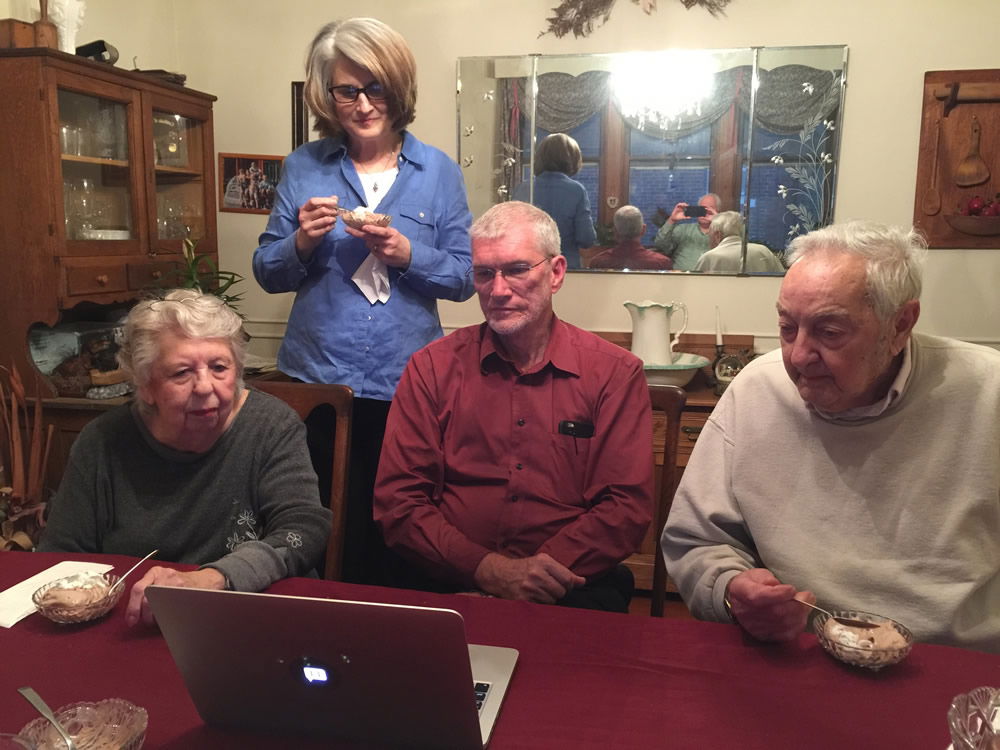 Among the many tributes paid to Dick (mine was recorded before I left for ministry on the West Coast and then played at the service last night) was from Troy Lacey of our staff. Troy wrote a few words that appeared in the service's printed program about Dick being his Sunday school teacher many years ago and added: "My position at Answers in Genesis can directly be traced back to Dick's zeal for the Word of God, and his desire to instill that zeal into the next generation." Please pray for Marlene and the whole family, including their two children Rich and Jane, during this time, although they will all be quick to say that they are consoled in knowing that Dick is now with his Heavenly Father.
Now, in the photo above the person standing on the left is Renee Looy of our staff who, with her husband Mark (also of AiG), joined me to visit the Sauer home. My sincere condolences are extended to Renee as her father Joe Andrus passed away in Arizona this morning. Joe, 83, was also a believer and worked as an accountant for both ministries and businesses. Below is a photo of Joe, his wife LaVonne, and all of their seven children in a picture taken last month in Arizona after the seven siblings discovered that their beloved father had cancer. (Renee is second from the right.) Joe's children and grandchildren had planned a larger family reunion in Idaho for this month (hence in the photo you see the Idaho t-shirts they planned to wear), but they had to put off that gathering and instead they all travelled to Arizona last month to see their father Joe. His memorial service will be held this Sunday afternoon in Arizona.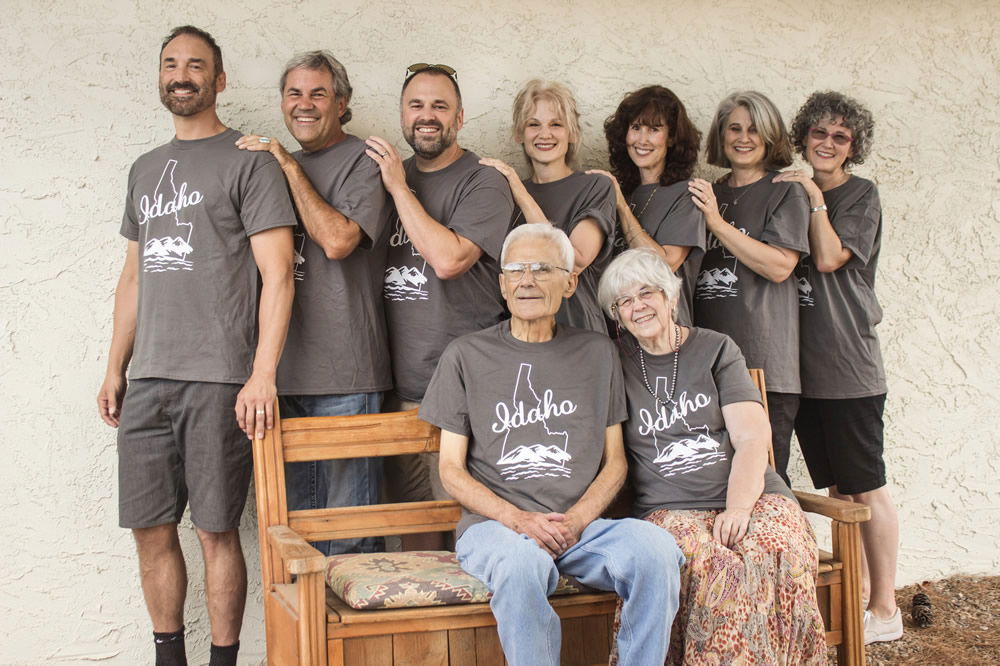 Whenever I write about friends passing away, I encourage my blog readers to read a booklet I wrote on the topic with Mark—and an article by medical doctor Tommy Mitchell called "Why Does God's Creation Include Death and Suffering?"
Thanks for stopping by and thanks for praying, including for the Sauer and Andrus families,
Ken