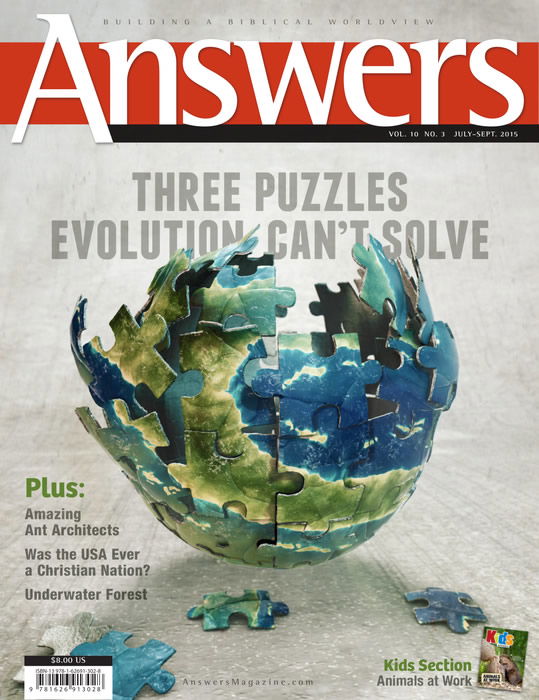 Are you a subscriber to our award-winning, family magazine Answers? If not, you're missing out on biblical and apologetics content enjoyed by over 200,000 people in over 100 countries. You definitely don't want to miss it. It's not too late to subscribe and receive the latest issue—you'll even get a free video download when you do!
In this issue, you'll learn about incredible "walking cathedrals" that proclaim the glory and creativity of the Designer, and you'll be better equipped to handle objections to the Bible's history when you read about the most powerful argument against the Flood—and how to answer it.
The cover article will equip you to defend the biblical worldview with a look at three huge puzzles that evolution still can't solve. Plus, discover what Genesis says about the role of women. But those are just the beginning. Consider also, do bacteria really evolve, and what are the limits to their ability to change? You'll find answers to these questions and many more in the latest issue of Answers.
Here's a sneak peek at just a few of the more than twenty excellent articles in this latest issue:
Alabama's Underwater Forest
A cypress forest was recently discovered off Alabama's coast. What climate changes could explain such a massive rise in ocean level? And do these changes have anything to do with biblical history?
Escape from Darkness
In the remote highlands of Southeast Asia, Mike Wild and his family are seeing how God's Word—presented in its full scope from creation—can dispel any darkness or fear.
Playing the Harlot in Our Scientific Age
The Bible uses strong language to describe any form of compromise with worldly thinking. And it doesn't just apply to the ancient Israelites—it applies to us today. We need to be on the alert for compromise in our own thinking and be willing to stand uncompromisingly on God's Word from the beginning.
Water from Rock
We often refer to rock layers as though the earth is made of solid rock impervious to water. Thankfully, this isn't true. But how do we get water from rocks?
Climate-Controlled Coworkers
The Creator gave a few, select animals—such as horses and camels—unique abilities to work alongside people in some very harsh environments. Learn about the incredible design of these amazing creatures.
And as always, kids will love Kids Answers, an eight-page mini-magazine designed just for them, included in the middle of every issue of Answers. This quarter, kids discover amazing facts about homes built by birds, termites, bees, and more. And they will learn about the home that Jesus has promised for all who trust in Him to forgive their sins. As they read about the animal world they will see that Jesus the Savior is the Creator of it all!
ANSWERS MAGAZINE IS A WONDERFUL RESOURCE TO EQUIP YOU AND YOUR FAMILY.
Answers magazine is a wonderful resource to equip you and your family, and I strongly encourage you to subscribe. There is nothing else like it! Let Answers help you stand on the authority of God's Word from the very beginning and answer the skeptical questions of this age. In a culture that has rejected God's Word and no longer trusts what the Bible says, it's vital that we equip ourselves to defend God's Word and the hope He has put within us, while pointing people to Christ.
Thanks for stopping by and thanks for praying,
Ken
This item was written with the assistance of AiG's research team.