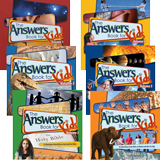 Our children face an onslaught of evolutionary teaching at school, on TV, and in many of the books and articles that they read. They need to be equipped to think biblically so they can spot error when they see it and defend the Christian faith with answers to skeptical attacks. At Answers in Genesis, we have a passion for reaching out to children with the message that they can trust God's Word from the very beginning. We desperately want the next generation to stand solidly on the truth of Scripture and start their thinking in all areas, not with man's sinful, fallible ideas, but with God's infallible, authoritative Word.
Kids also need to be equipped with solid answers to the skeptical questions of this age—like "How did all the dinosaurs fit on the Ark?," "Who made God?," and "Where did the Bible come from?"—because they will come up against these (and many more) questions. One way that you can equip your kids even at a young age with answers is with our Answers Books for Kids series. This six-book set suitable for middle school and lower contains biblically based answers to more than 100 questions that kids ask. This is a great resource for kids and for parents as they seek to answer their children's questions. One mother wrote us about this resource and said,
I was recently trying to figure out what to use next for devotional material with my children. One of my children brought me one of the "Answers Book for Kids" to read. I hadn't read it for a while and quickly realized we could use it for devotions in the morning. Now we read two questions a day and the kids take turns reading the verses.

They never want me to stop at just two questions and answers. Thank you for the right tools to help us defend our faith.

—K.L., Delaware
I encourage you to order this special series to help you as you work on shaping the faith of your children as you "train up [your] child in the way he should go" (Proverbs 22:6). You can order these books as a series or individually here. We also have the first two volumes of the Answers Book for Kids available to read online here. Dads, this would be a good way for you to lead a devotion series with your family. The answers in this series would be suitable for all ages!
Thanks for stopping by and thanks for praying,
Ken
This item was written with the assistance of AiG's research team.