"Thank God You Can't Sink This Ship" are the bold words on our new billboards going up this week. These billboards are aimed at encouraging people to visit the Answers in Genesis website to learn the truth about Ark Encounter. The media and secularists have spread misinformation about the project all over the Internet and other outlets, and we want to encourage people to discover the truth about the Bible-upholding Ark Encounter.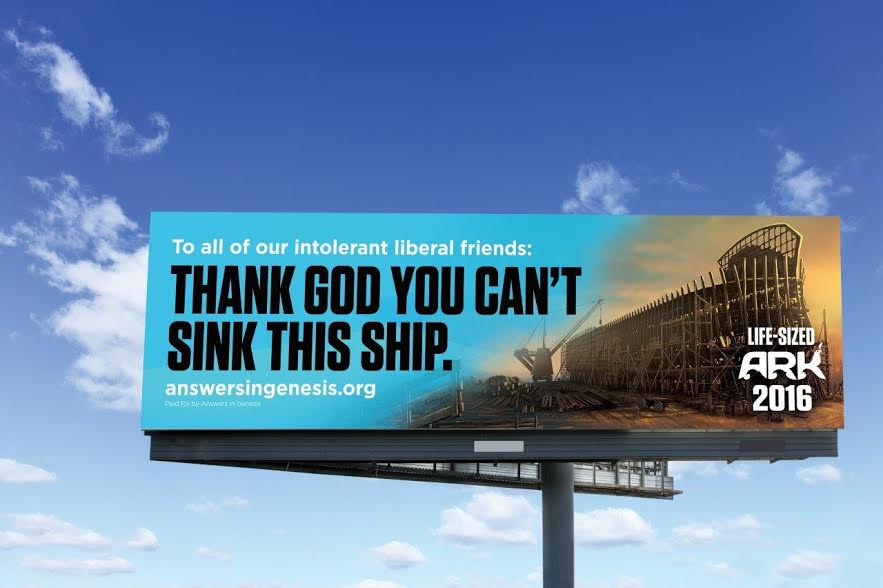 Sixteen of these billboards are going up in major cities across Kentucky, as well as a digital board in busy Times Square. Overall, we expect 20 million impressions to be made from these eye-catching billboards.
Atheists and secularists do not want to see Ark Encounter built and are doing everything they can think of to stop it—including spreading blatant lies and misinformation. They do not want anyone to learn that the Bible can be trusted and that observational science confirms the Bible's account of history. They also don't want people to be exposed to the life-changing messages of the Bible that will be boldly presented at Ark Encounter. They especially don't want our kids—the next generation—to hear this truth. This approach is obvious in a secular billboard campaign occurring this Christmas that encourages kids to skip church and reject Christian teachings as myths. You can read a recent blog post about those secular billboards here.
These attacks on Ark Encounter highlight their intolerance of religion. Secularists are trying to keep any mention of Christianity out of the culture, and this includes the Ark of the Bible. In recent blog posts and articles we've pointed out numerous instances of the growing intolerance toward religion, especially Christianity, throughout our culture. This intolerance is increasingly culminating in attacks on religious freedoms, such as the city of Houston trying to force pastors to turn in their sermons or churches being forced to pay for abortions. Recent attacks on Ark Encounter are just another example of this growing opposition. As Christians, we need to be bold in standing up for our religious freedoms and the truth of God's Word even in the midst of growing intolerance and opposition. Christian persecution is already happening in America in various ways, but this is going to greatly increase if this nation continues on this path of intolerance against God and His Word.
We've recently posted a full-length web article that discusses this new billboard campaign and debunks the various myths floating around about Ark Encounter. I encourage you read through this article and share it on social media.
Thanks for stopping by and thanks for praying,
Ken
This item was written with the assistance of AiG's research team.