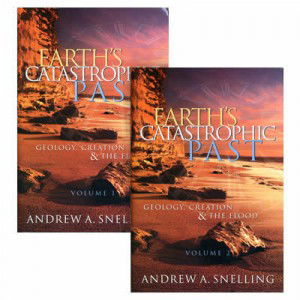 We're excited to announce the re-release of the two-book set by AiG's own Dr. Andrew Snelling,
Earth's Catastrophic Past
. This work is an update and follow-up to the classic
The Genesis Flood
by Dr. Henry Morris, and it's a must-have for every serious student of Genesis.
And until November 30, we have a special social media only offer: If you buy Earth's Catastrophic Past from our online store for $59.99, you will automatically receive Dr. Snelling's five-DVD geology set for free (that's a $49.99 value)! This exciting offer is available exclusively through our online bookstore at https://answersingenesis.org/store/specials/geology-special/ until the end of the month.
While being a comprehensive, in-depth work, Earth's Catastrophic Past is not overly technical. Our online bookstore describes it this way:
Step by step, geologist Dr. Andrew Snelling examines evolutionary interpretations of the geologic record and deconstructs the misplaced assumptions on which those interpretations are based. With excellent scholarly research and insight, he then constructs a biblical geologic model for earth history and concludes that the claims of Genesis chapters 1–11 are true.

Topics covered include:

The biblical record of the Flood
Arguments used against the global Genesis Flood
Noah, the Ark, and the animals
The framework for a scriptural geology
A biblical geologic model of earth history

Includes 126 chapters, selected bibliography, index and numerous color figures/illustrations.

By the end of Earth's Catastrophic Past, readers will have their faith restored in Genesis as real, literal history, and be convinced that the scientific evidence, correctly discerned and applied, is indeed consistent with God's record of our origins and history found in Genesis 1-11.
Earth's Catastrophic Past
is really the modern, classic, comprehensive creationist geology work. I encourage you to take advantage of this re-release and order
Earth's Catastrophic Past
and your free
Geology
set today by going to our online store at
https://answersingenesis.org/store/specials/geology-special/
.
Thanks for stopping by and thanks for praying,
Ken